Samuel Eaton 1597-1665
First Congregational Chapel in England
Samuel Eaton, the son of Richard Eaton, Vicar of Great Budworth, was a prolific pamphleteer and a contentious activist in litigation and the first nonconformist minister in Cheshire. He was educated at Oxford and took orders under the Church of England, but soon dissented about certain ceremonies. He first went as minister to West Kirby on the Wirrall, but was suspended by Bishop Bridgeman in 1631, taken prisoner by Bishop Laud and imprisoned at Newgate. He fled to Holland after his release.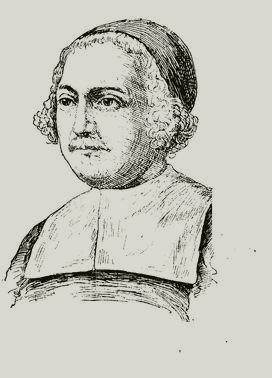 Meanwhile in 1624 John Davenport (pictured on the right) had just been elected to serve as minister at St Stephen's Church, Coleman Street, London. Davenport was born in 1597 and baptized by Richard Eaton at Coventry 9th April 1597. Before he could take up his post he was accused of Puritanism by King James I which he denied at the time. About 1630 Theophilus Eaton, a wealthy merchant, son of Richard and brother to Samuel took over a house in Swanne Alley, off Coleman Street. He had served as Deputy Governor of the Eastland Company at Elbing. The group received a grant of territory from the Council for New England and as "The Gov. and Co. of the Massachusetts Bay in New England", received a charter from the crown.
In November of 1633, Davenport fled to Amsterdam to escape the increasing disapproval of the Crown, where the group organized their move to the New World. The group included: John and Elizabeth Davenport (left infant son in care of noble lady); Theophilus Eaton, Anne Eaton, daughter of George Lloyd, Bishop of Chester, and widow of Thomas Yale, the second wife of Theophilus Eaton; old Mrs. Eaton, his mother; Samuel and Nathaniel Eaton, his brothers; Mary Eaton, the daughter of his first wife; Samuel, Theophilus and Hannah, the children of his second wife; Anne, David and Thomas Yale, the children of Anne Eaton by her former marriage; Edward Hopkins, who on Sep. 5, 1631 had married Anne Yale at St. Antholin's in London; and Richard Malbon, a kinsman of Theophilus Eaton. "Also many inhabitants of the parish of St. Stephen and others (probably from the neighbourhood, but not members of St. Stephens)". The group chartered the "Hector" of London and on the 26th June 1637, John Winthrop recorded the arrival of the group from London at Boston.
On arrival in Massachusetts, Davenport was chosen to be a magistrate. The Massachusetts planters made strong efforts to retain the party, who were gentlemen of wealth and character. The general court offered them whatever place they might choose, and the inhabitants of Newbury agreed to give up that town to them, but they determined to found a distinct colony. Accordingly, in the autumn of 1637, Theophilus Eaton, with a few friends, carefully explored the Connecticut coast, and finally selected a place called Quinnipiac where the colony settled in March 1638. In November, he was one of those who contracted with the Indians for the sale of lands, the price being thirteen English coats. On 4 June 1639, he was one of the "seven pillars" selected to form a government for the colony. He was chosen as its first governor, and continued in that office until his death. Apparently he was "a handsome and commanding figure, and although strict and severe in religious matters, he was affable and courteous".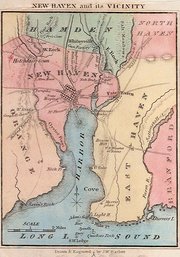 The group made their roots in New Haven just one year after the wars of the English against the Pequot Indians, where Uncas the leader of the Mohegan tribe had helped the English. Uncas was immortalized in literature in, "The Last of the Mohicans" 1826, by the American writer James Fenimore Cooper.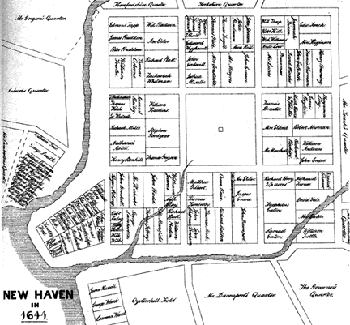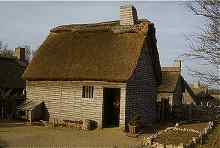 Within the year, the colonists established a precise nine square town plan; it has since been named among America's earliest and most important urban designs. The one and a half square mile tract was set on a diagonal axis and fitted snugly between West and Mill Creeks at the harbor's mouth. Individual plots (see illustration), sized according to shareholders' wealth and social standing filled the surrounding squares. The settlers reserved the center square for common use. The names on this and the original are rather hard to read, but I do have a transcription. Please contact me if you want any further information.
Nathaniel Eaton came to New England in 1637 with his brothers and was appointed the first professor of the school, which later became Harvard University. He was, however, the black sheep of the family, deceived the people who appointed him and was said to have been more fitting to be the Master at Bridewell than at a College. He was an exceptional scholar himself and made many more, but was notorious for his greed and cruelty. His pupils complained of bad food and ill treatment and in September 1639, after beating his usher with a cudgel, he was removed from his post. He fled to Virginia leaving debts amounting to £1,000 and was excommunicated by the Cambridge Churches. He returned to England in 1645, eventually dying in a debtor's prison.
In New England, Samuel Eaton was educated at Harvard and came to live at New Haven next to his brother Theophilus and acted as assistant to John Davenport. Samuel returned to England in 1640 just in time for the Civil War. Whilst he was preaching a fiery sermon at Chester, he came to the notice of Colonel Robert Dukenfield, puritan and staunch republican, who immediately put at his disposal the small family chapel attached to Dukinfield Hall.
This late sixteenth or early seventeenth century chapel was built on the site of an earlier private chapel of the Dukinfield family, originally licensed by the Bishop of Litchfield in 1398. Here Eaton organized a Congregational Church, probably before the end of 1640, or early in 1641, this being the "first Independent Church visible and framed that was set up in England".*** It was organized with Eaton as teacher and Thomas Taylor, Vicar of Hemel Hempstead as pastor.
With Robert Dukinfield's help he was also made chaplain to the garrison at Chester, but on his return to Dukinfield, found that the chapel had fallen into the hands of a group of so-called 'gifted brethren'. Eaton found it impossible to restore order and withdrew to Stockport where he preached at the Grammar School.
After the Restoration, he was again excommunicated in 1662, silenced and forced to move again. He continued to preach in private and was several times imprisoned. Finally he died on the 25th January 1664/5 and was buried at Denton Chapel. The registers at Stockport record the burial of "Samuel Eaton of Bredburie, Minister". His widow died March 30th 1681 "dyed at Stopport, buried at Denton 2nd April 1681".




***Source: Alexander Gordon Historical Account of Dukinfield Chapel 1896 p11
quote: (Edwards Gangraema, 1646 iii,169)