Message Board 2009

This is your page to advertise the names of families you are researching and missing ancestors in Tameside. You can also include photographs and links to your own websites etc. The only stipulation is that the families must have lived in one of the towns that make up Tameside. Please e-mail me at: gayjoliver@gmail.com, and put MESSAGE BOARD in the subject line. You must also let me know what contact details you want to appear on-line.
If you want to search for exampes of your surnames in this page use control and F on your keyboard. Please make sure you visit all five pages.


---
Can anyone help identify more information about this photo
I have a photograph taken of a football team in Dukinfield circa 1925, possibly connected to The Boys Brigade, my late father in law George Harling, b. 1915 Dukinfield is on the left of the front row. Can any readers can add further info ?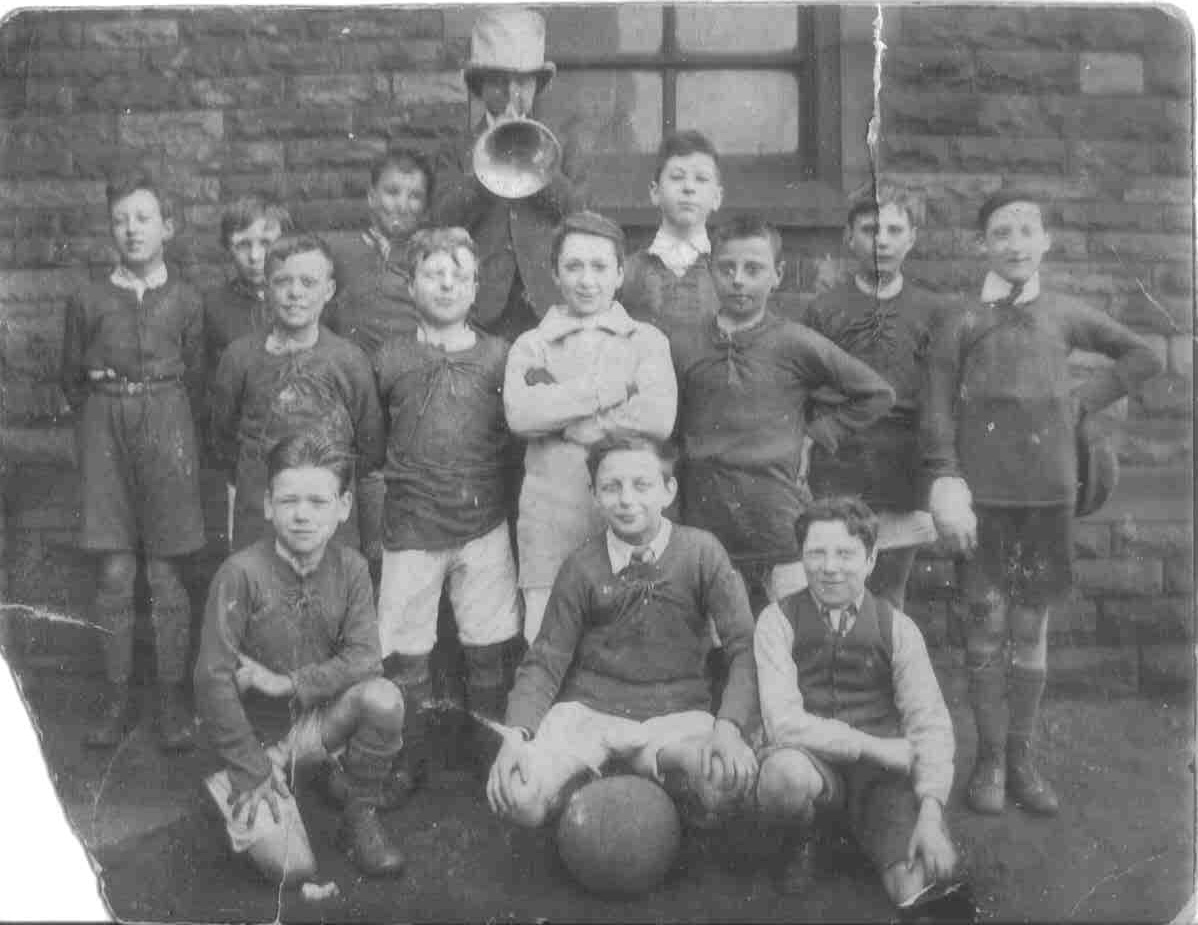 Contact Tony Bacon at: tonybacon@eircom.net
message posted 22 December 2009
---
Help with my MOODY Family
I have found a marriage for Charles Moody and Eva Evans in 1906. It was a Civil marriage in Tameside. I then find a birth for Lewis Moody in Ashton 1915 2nd Q. I bring it up on Freebmd and it's there with Evans - mum's maiden name. I have since then found a marriage for Lewis to Vera Alice Lomas in 1940. These took place at Hurst Methodist Church ORMONDE STREET. Does anyone know them or the church? Are there anymore siblings or does anyone out there know anymore?
Charles Moody was my Granddad's cousin. They where born in Holmes Chapel ( Church Hulme ) in 1877 and 1873. I cannot find deaths for Charles Moody who was a tailor as was his wife either. I wonder did they go back to Cheshire later. I can find a death for Lewis Moody in 1986 but is it him? Can anyone advise please?
Contact Margaret Jackson at: mej62@aol.com
message posted 7 October 2009
---
Where did the MAUDE family come from?
Does anyone know anything about Dan MAUDE? born about 1792 and died 1839 in Micklehurst.
Who were his parents?
Who did he marry?
Did he have any brothers or sisters?
He had several children
Mary b1821
Ann b1822
Allen b1823
Nathaniel b1826
Sarah b1828
Charles b1829
1871 census Allen was the inkeeper of the Friendship Inn on Manchester Road till his death in1875.
1881 census Charles was a dealer in tea and sweets.
Jane b1846
John b1849
Dan b1851
Allen b 1880
Myra b1886
Is anyone related or has any information on any of the MAUDE family from Mossley/Stalybridge/Tintwistle wouid love to hear from you .
Contact Margaret at: margarettuc19@yahoo.co.uk
message posted 28 September 2009
---
Looking for the TAYLOR family who moved from Sheffield to Stockport, then Ashton in the 1850s
My Gr Gr Grandfather was born in Sheffield around 1816.
In 1851 he was living at 7 James Street Stockport age 47 with Elizabeth 36 Daughter Sarah 3 my Gr Grandfather John 3 months
In 1861 he was living in Ashton 47 with Elizabeth 50 Daughter Sarah 13 my Gr Grandfather John 11 and Thomas 8
In 1881 he was living at cottages White hall Ashton age 65 with Thomas 28 wife Phebe 26 and William 5 Bertha 3 and Elizabeth just born
I need to contact any relative of Sarah 13 in 1861 or any of Thomas's family from 1881
Kind regards
Contact Bob Taylor at: firemanbob@virgin.net
message posted 18 September 2009
---
Looking for the Family of Michael GLYNN born in Ireland in 1863
I am looking for information on my great grandfather Michael GLYNN who was born about 1863 in Ireland.
He married Mary Jane in 1884 in Widnes and came to Stalybridge around 1904 and had ten children:
Thomas
Patrick
Martin
John
James
Harry
Ellen
Bridget
Maggie
Annie, my grandmother
Last known address Worthing Street, Stalybridge.
Contact Margaret at: margarettuc19@yahoo.co.uk
message posted 18 September 2009
---
Leah Family from Hyde
I have just found this website. I would like you to please put a message on your message board to read:- as follows
Leah family
Trying to find any information on three bothers from Hyde, Cheshire.
Thomas Leah born 1875
William Leah born 1882
Joseph Leah born 1884
Father of these sons William Leah, Mother Hannah Whittle
I found two sons on a 1901 Census living with another family The Walbank family at 16 Francis st, Hyde. They were boarders and both worked as coal miners(Hewers), William was 19 and Joseph was 17 then. I dont know if they got killed, or if they eventually married. Thomas was on a 1891 Census and then only 16. Would like to know what happened to him. He worked as a Felt Hat Planker.
Appreciate any help if possible thankyou.
Contact Barbara at Zackie@live.com.au
message posted 3 September 2009
---
Russell Family
I'm looking for the Russell family who moved to Bradford/Prestwich area of Manchester. I've found them on the 1881 census living at 58 Elliott St, Bradford in the Prestwich registration district. Family consists of - James Russell Head born c1846 Ireland ( James changed his name from Patrick to James when he went to USA)
Esther " Wife " c 1850 Ireland
Ann Eliz " Dtr " c 1869 St. Helens, Lancashire
Mary " " " c 1875 USA
Amelia " " " c 1876 USA
Emily " " " c 1881 Bradford
Hoping for a connection somewhere
(contact information) eiwill2@tiscali.co.uk
message posted 14 February 2009
---
Marslands in Hyde
I am trying to make contact with anyone who is a descendent or knows of anything about this family who lived in Hyde. Missing pieces in my family tree which are proving hard to find out about.
Peter Marsland b1860 in Bosley
Elizabeth Marsland (nee Jackson) wife
Sarah Marsland born 1893 Hyde
Annie born 1895 Hyde
Samuel born 1896 Hyde
Ralph born 1899 Hyde
Dorothy born 1900
Martha 1903 born Hyde
William Henry 1910 born Hyde
Last known address on 1911 census was 98 NELSON STREET HYDE 1901 census address was 2 SYKES STREET HYDE
Any help in this would be much appreciated as living in Australia my searching is very limited to just the internet.
thank you
(contact information) jandr@tadaust.org.au
message posted 18th June 2009
---