Message Board 2007

This is your page to advertise the names of families you are researching and missing ancestors in Tameside. You can also include photographs and links to your own websites etc. The only stipulation is that the families must have lived in one of the towns that make up Tameside. Please e-mail me at: gayjoliver@gmail.com, and put MESSAGE BOARD in the subject line. You must also let me know what contact details you want to appear on-line.
If you want to search for exampes of your surnames in this page use control and F on your keyboard. Please make sure you visit all four pages.


---
---
Denton Buffaloes
I am attaching a photograph of a group of men Belonging to the Royal Antidiluvian Order of Buffaloes. The man seated far left is believed to be George Wilshaw my GGrandmother Annie Wilshaw's brother. The Wilshaw family lived at 79 Kynder Street Denton in 1901. Annie married Albert Greenhalgh in 1908 and lived at 2 Off Clayton Street Denton. I would be interested to know if you have any information about the group of men such as what year it might have been or members of the families mentioned in general.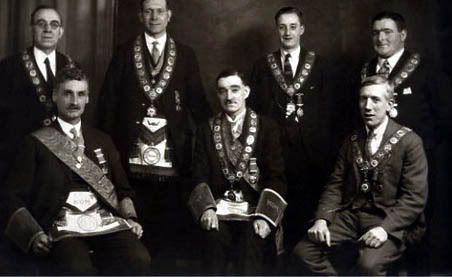 Sheila Bruntnell: sbruntnell@btinternet.com
message posted 8th August 2007
---
Elijah and Elizabeth Bowker
These are photos of Elijah and Elizabeth Bowker (nee Whittaker) who emigrated Elijah b 25 Oct 1829, Haughton, Manchester, Lancashire, England, d 22 Nov 1906 Keene, Wabaunsee Cty, KS. m Elizabeth Whitaker 16 Mar 1851 Cathdral, Manchester, Lancashire, d 2 Jun 1830, Hatherlow, Cheshire, England. d 6 Feb 1921 Dover Twp, Shawnee County, KS. They are both buried in Mission Creek Cemetery, Keene, KS. Elijah went to the US Jan 1857 on the ship "Calhoun" followed by Elizabeth on Sep 1857, with children, Hannah, 4, and Thomas an infant on "Dreadnought".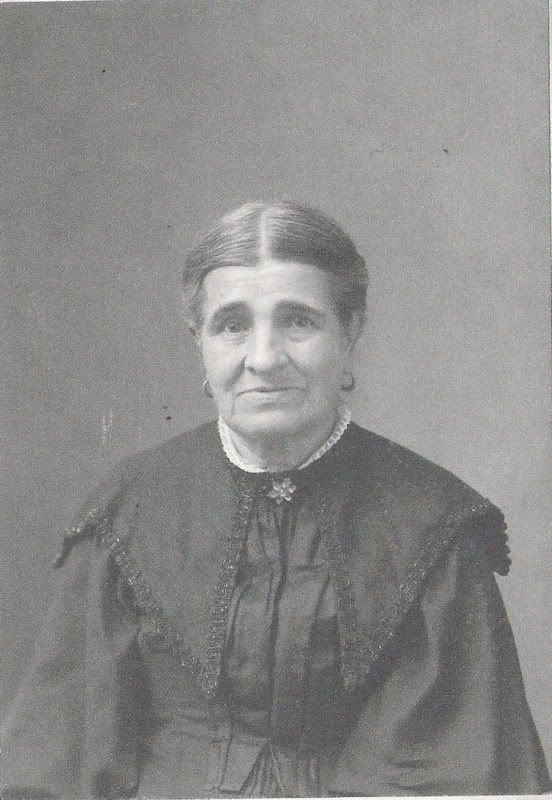 Sheila Bruntnell: sbruntnell@btinternet.com
message posted 8th August 2007
---
Can anyone help identify the location of this marriage?
My best guess is that it was taken in the 1930s somewhere in Stockport


The Stockport Plebs League 1930s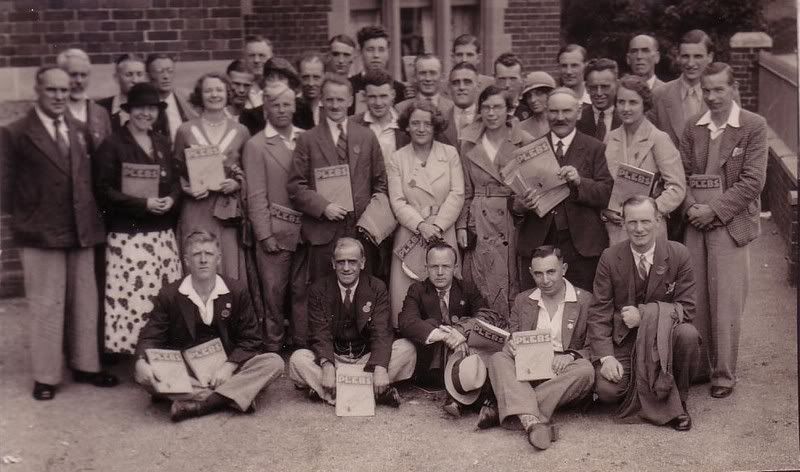 I have done a bit of Googling this evening on "Plebs". It appears it means the "Plebs League" a forerunner of the Workers Education Association and was founded in 1908 at Ruskin College, Oxford. Now I understand why my grandfather was so "into" Esperanto and hands across the oceans etc.
Granddad, Harry Seddon is the fine dapper looking chap in the middle with the little moustache to the right of the young lady in the light coat. I have scanned the photo and I think it has come out quite well. There may be others in the MLFHS who had relatives in the union movement in Stockport who may be interested perhaps.
contact Kate at: katymort@btinternet.com
message posted 3 December 2007
---
ELIZA SMITH - DOLLY & JOE GARSIDEHARNEY from DENTON
In the early part of 1930's an ELIZA SMITH widow then in her early 70's lived at 13 Peter Street, Denton with her 'daughter' Dolly. Dolly married around this time JOE GARSIDE and sometime after it is believed the couple moved to the Gorton area of Manchester where JOE died before DOLLY. ELIZA died about 1935-9.
Nothing can be found on ELIZA and DOLLY as no E.R.'s seem to exist and the local Directories for the time for some reason do not seem to include Peter Street.
Help ! Does anyone know anything about ELIZA SMITH at 13 Peter Street, Denton ? Any information would be so helpful.
Thank you, Jane: jane.tegg@btinternet.com
message posted 25th November 2007
---
GEE Family DNA Project
There is a new DNA project for the GEE families. We are looking for males from the GEE family, in Stockport, Manchester, Leistershire, Rothley, Cheshire, Yorkshire and other areas in the UK.
We are tracing the Gee family back to France, as it is theorized all GEE's may have originated in one or two villages in France, under different spellings. There may be financial help toward the cost of testing.
Please contact Mike Gee: admin@geeroots.org &nbsp&nbsp&nbsp http://geeroots.org
message posted13th November 2007
---
ALDRED ,HEATON, SINGLETON, QUEST, TOBIN, HARNEY
These families are all connected by marriage and lived in Stalybridge in the 1920s till after WW2.
Seeking any connections.
Patricia Pitt: pat.pitt@bigpond.com
message posted 8th November 2007
---
Howard, Booth, Kenworthy, Turner, Hassall, Bates, Leech
Who is this Mystery Man???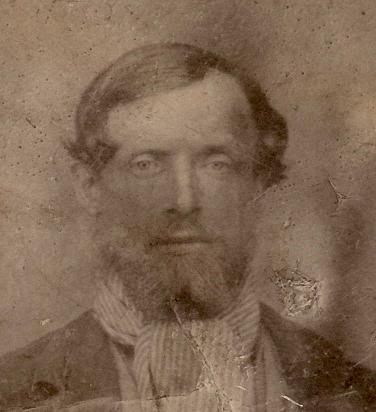 I am submitting the following for your message board along with a photo which I hope is not too large. I am searching for the descendants of Robert Howard (b. abt. 1800) and his wife Sarah (Sally)(nee Booth b. abt. 1800 in Dukinfield). In 1841, they lived at Hurst Brook in Ashton under Lyne. Robert was a collier.
They had the following children: William (b. 1819, married Nancy Taylor), Andrew (b.1821), Mary (b. 1823, married Theophilus Hassal), Anne (b. 1827, married Charles Bates), Samuel (b. 1830, married Eliza Hilton 1850), Elizabeth (b. 1832), Jane (b. 1834), James (b. 1837), Sarah (b. 1839),
Phebe (b. 1842, married James Leech).
Samuel and Eliza Howard had 2 daugthers: Amelia (b. 1851) and Eliza Ellen (b. 1855).
Amelia married William Kenworthy in 1872. In the 1901 census, Amelia's son Thomas Kenworthy (b.1872) was a grocer in Stalybridge living with his wife Mary and their son Regent/Reginald (b.1900).
Eliza married James Turner in 1882 and they had several children.
Samuel left his family and emigrated to Canada between 1861 and 1869.
He brought this picture with him to Canada. This mystery man's portrait was taken at J.H. Platt's studio in Market Street, Ashton. He is likely a Howard as he bears a family resemblance. I would like to hear from anyone who may have a connection to this family. Allison Howard
Allison Howard: u2oneone@hotmail.com
message posted 5th November 2007
---
Rowarth & Morris
Family names I am interested in
Any imformation at all on Thomas Morris who lived at High Bank, Godley married Doris Rowarth had two children Marion & Graham, can anyone help as to where Thomas was born and to where he may have worked, Doris died around 1956 at Acresfield Rd Newton, Tom remarried & died in 1991 in Dukinfield.
Contact: Shirley at hydelm36@bigpond.com (Australia)
message posted 20th October 2007
---
Looking for descendents of John Holmes and his family
Hi I am trying to trace the descendents of John Holmes, a lithographic printer who moved to Ashton with his wife Florence and their daughter Ada. They came from Bradford, Yorks. They were living at 140 Burlington Street, Ashton at the time of the 1901 census. Any help would be gratefully received.
thank you Roger Holmes
Contact Roger Holmes: raholmes@hotmail.co.uk
message posted 20th September 2007
---
WOOD - HAYES
I am researching migration of Edwin Wood and spouse Elizabeth Knight---son Edwin Thomas Wood married Margaret Hayes whose father was Edward T. Hayes. All from Ashton under Lyne and migrated to Maine, USA around 1866 to 1890.
Thanks from Louisiana
lingeaux@gmail.com
message posted 8th September 2007
---
GREENHALGH Family Audenshaw
My GGGGrandfather was James Greenhalgh a tailor born in Bury in 1796. He moved to Audenshaw around 1820 and married local girl Elizabeth Winterbottom . They lived at Cross Gate and had son's Geoffrey, Jesse, Denis and Orlando and a daughter Mary who died at birth.
James was widowed in 1839 and the following year married Elizabeth's sister Sarah Winterbottom at Manchester Cathedral. The following year they had a son James. Mother and baby died at birth.
Seven years later James married Elizabeth (Betty) Newton from Audenshaw at St Michael and All Angels Ashton-U-Lyne. The same year James's son Denis died and the following year James and Betty had a son which they named Denis.
James is mentioned in the local Trade Directory of 1832 by 1851 he employed four Journeyman tailors plus son Geoffrey and had a 17 Acre farm, which I think was a Dairy Farm. His son Orlando is down as being a cowboy. James was also the Deputy Registrar for the area and a surveyor.
In 1851 he and his family lived in Cock Lane which I am told is now Stamford Road. His son Jesse married Clara (Clarry) Hilton and they lived in Guide Lane.
If anyone out there is connected to this family I would love to hear from them.
Sheila Bruntnell: sbruntnell@btinternet.com
message posted 8th August 2007
---
CHORLTONs of Ashton-under-Lyne
I am researching my CHORLTON family tree from Ashton u Lyne, and would be interested in any information that is available.
In 1861 I have the following at 304 John Street, Ashton Town, Ashton under Lyne,
1826 Henry CHORLTON, born Ashton u Lyne
1829 Ann CHORLTON, Wife (born Ann CLEGG, in Yorkshire)
1861 Betty CHORLTON, 6 Mths old
Then in 1871, still at 304 John Street, Ashton Town, Ashton under Lyne, with all children born in Ashton.
1826 Henry CHORLTON, Iron Store Keeper
1829 Ann CHORLTON, (nee Clegg) Wife , Born Sceamadon, York's, a Cotton Winder.
1861 Betty CHORLTON, Daut, Scholar
1864 Ellis CHORLTON, Son, Scholar
1870 John CHORLTON, Son,
In 1881 they had moved to 306 John St., Ashton Under Lyne, and Ann's sister, Grace CLEGG had moved in with them.
By 1901 Ellis Chorlton (born 1864) was a Mineral Water Traveller, and had married Harriet STACKHOUSE, and they had the following children, all born in Ashton Under Lyne:
1890 James H Chorlton
1892 Albert E Chorlton
1896 Lilian G Chorlton
1899 Tom C Chorlton
1901 Reginald Chorlton
John Chorlton (born 1870) was a Mineral Water Works Warehouseman, at Barratts in Ashton, and had married Mary Hadfield. Their children, all born in Ashton Under Lyne, were:
1897 Ann CHORLTON
1899 Henry CHORLTON
1901 John CHORLTON
Going back to 1851, I am stuck with this as a possibility:
Living in Ashton-Under-Lyne was this family, and I wonder if they are related to me via the above:
1788 Henry Chorlton Born Ashton-Under-Lyne A Tinman
1815 Phebe Chorlton Daughter Born Ashton-Under-Lyne
1828? Henry Chorlton Son Ashton-Under-Lyne - Tinman
1837 Sarah Chorlton Granddaughter, born in Bolton.
If anyone knows anything that may help, I would appreciate hearing from them.
Robert. email: rec@aanet.com.au
message posted 25th July 2007
---
James Fletcher Holmes
I am trying to find details of my grandfather James Fletcher Holmes he was born between Feb 1880-82 in
Ashton Under Lyne and was a Master Cotton Spinner he owned a mil in Guide Bridge, his mothers maiden name was Fanny Elizabeth Ann Fletcher and she was born between June 1854-56, her husband James Holmes was an Estate Agent and I am wondering if the estate was belonging to the Fletchers so I am also interested in the Fletchers
I can be contacted at rickholmes@talktalk.net
message posted 20th July 2007
---
HAMILTON SEARCH IN ASHTON, DUKINFIELD AND HURST
James Hamilton married Jane McMurray in Ireland in 1820's and moved to Ashton-under Lyne post 1845. They were both Irish and born in 1805 and 1808 respectively.
They brought several children with them from Ireland and Hans Hamilton was born in AUL in 1851. He had a son, James Robert born in 1875, then Thomas William in 1882 and Alexander in 1884 with his first wife Eliza Shaw. Then with his second wife, Mary Woodcock another son George in 1915 (yes, I know that made him 64 years old but it is correct)
There was several girls in both marriages too, but I haven't got very far with them yet.
Anyone else chasing Hamilton's around AUL, Dukinfield, Hurst areas? Just love to find out where James and Jane finished up.
Maureen Hamilton Perth, Western Australia. e-mail: hamie@iinet.net.au
message posted 20th July 2007
---
BRADSHAW/LEWIS/HARROP/MINTON
I AM RESEARCHING MY FAMILY AND WOULD WELCOME ANY INFORMATION RE: JAMES BRADSHAW (AMY LEWIS), JOSEPH HARROP (JANE MINTON) living in Hyde, Cheshire. Jane worked in the Norfolk Arms at one point.
E-mail: ARoyston05@aol.com
message posted 14th July 2007
---
WARHURST, KINSEY, CHERRY, GRIMSHAW
I am looking for any contacts that might be able to help me with information on the birth details of John Warhurst married to Mary Kinsey 1827 St Mary's Cheadle immigrated to Aust 1839 from Stockport
Edward Warhurst married to Elizabeth Cherry from Droylsden - emigrated to Aust 1857 ancestors are Timothy and Deborah Warhurst Glossop - Tim is buried in All Saints Glossop tyring to establish relationship of Edward above and Parents Abel and Sarah of Henry ( Harry) Warhurst b, 1875 married Maggie Grimshaw who emigrated to Aust 1912.
We are in the throes of putting together a family history book for our genealogy society and are hoping to tie the families together ands link up with other English rellies.
Contact: Jenny Sandercock South Australia: jennys6@bigpond.com
message posted 31st May 2007
---
Searching for ROBERT SHAW's family
I am researching the family of my husband, Robert Shaw. We know that his ggrandfather was John Shaw (widower) who married Mary nee Booth Pennington (widow) on July 15th 1866 at St. Mary's parish church in Stockport. They lived in Staleybridge and were the parents of 1 son, Daniel, born May 6th, 1867.
On the marriage certificate, John is shown to be a cylinder maker and on Daniel's birth cerificate he is shown to be a blacksmith. On the 1871 cencus he is a millwright.
On the marriage certificate, John's father is listed as William, cylinder maker Mary's father is listed as Daniel Booth, showmaker. Obviously, John was married before and we don't know if there were children. We do know that Mary was married to Peter Pennington and that there were a number of children as they are shown on the census of 1871.
If anyone has ANY information on this family we would be grateful to hear from you.
Thank you very much,
Contact: Myrlin Shaw, Canada: MyrlinS@aol.com
message posted 31st May 2007
---
LILY and GEORGE HARNEY
LILY SINGLETON was born in Stalybridge in 1905. In 1924 she married GEORGE HAROLD HARNEY at Castle Hall, Holy Trinity, Stalybridge.
Lily died in 1978, and George in 1982. Their address at the time was 173 Chapel St, Dukinfield. In both instances the informant on the death certificates was son, RONALD BRIAN HARNEY
Contact: Patricia Pitt: patpitt@ozemail.com.au
message posted31 May 2007
---
GODDARD, SHEPLEY, LAMBERT, SCHOFIELD, HELM/ELM, LEECH
Searching for the parents of William GODDARD & his wife Martha SHEPLEY married 11 Oct. 1818 Stockport, Cheshire. They had 10 children, the youngest Eliza GODDARD b. 11 May 1839 Dukinfield; b+ 16 June United Brethren, Dukinfield.
Other children:
Ann 1819, Mary 1821, Elizabeth 1822, James 1824; Hannah 1826 Joseph 1818 Sarah 1830 John 1835 Sarah Ann 1837
Eliza married William SCHOFIELD, 17 August 1862, Dukinfield, Cheshire son of John SCHOFIELD & Ann Ellen HELM/ELM.
On their wedding certificate William's father John's occupation is given as a spinner, Eliza's father as a manager of a cotton mill.
William appears 1861 census at 69 Astley Street Dukinfield
William SCHOFIELD; brother-in-law; 21; joiner& carpenter; born Dukinfield, Cheshire.
He is living in the home of his brother-in-law and sister, William Henry and Hannah Maria [ Schofield] LEECH
John SCHOFIELD b. c. 1800 Saddleworth, Yorkshire, birth year based on age, 51, in the 1851 census Dukinfield. John married 9 June 1823 Ann Ellen HELM [Marriage record- parish of Mottram in Longendale, St. Michael's; [ her name on the marriage record Ann ELM] Ann the daughter of William HELM & Ellen BLACKBURN. Ann Ellen b+ St Michaelís Mottram 22 May 1791.
No other information on this William & Ellen except a marriage date, 9 Nov. 1779 St Michael, Ashton-Under-Lyne.
Census 1841:North side of Astley St. Dukinfield
census too light to read most of it.
John SCHOFIELD; head; 38; cotton mill warehouseman
Ann SCHOFIELD; wife; 35
Harriet SCHOFIELD; daughter; 15; weaver
Betty SCHOFIELD; daughter; 15; weaver.-- Harriet and Betty/ Elizabeth are twins.
Jane SCHOFIELD; daughter; 10
Sarah SCHOFIELD; daughter;8
Mary SCHOFIELD; daughter;7
Hannah SCHOFIELD; daughter; 5
John SCHOFIELD; son 3
Ann SCHOFIELD daughter; 2
William SCHOFIELD; son; 1

Census 1851 Astley St Dukinfield
St. Marks Parish; residence Astley Street
Jno SCHOFIELD; head; married; 51; innkeeper; born Saddleworth, Lancashire
Ann SCHOFIELD; wife; married 61; born Mottram, Cheshire.
Jane SCHOFIELD; daughter; unmarried 22; cotton spinner; born Ashton-Under-Lyne, Lancashire
Sarah SCHOFIELD; daughter; unmarried 20; cotton spinner; born Ashton-Under-Lyne, Lancashire
Mary SCHOFIELD; daughter; unmarried; 19 ;cotton spinner; born Ashton-Under-Lyne, Lancashire.
*Ann Maria SCHOFIELD; daughter; unmarried 17; cotton spinner; born Ashton-Under-Lyne, Lancashire. [Name on Baptism rec. Hannah Maria Ann] She is my 2x great grandmother
John SCHOFIELD; son; unmarried; 15 carter; born Ashton-Under-Lyne, Lancashire.
Ann SCHOFIELD; daughter; unmarried; 13; born Ashton-Under-Lyne, Lancashire.
William SCHOFIELD; son; unmarried; 11 scholar; born Dukinfield, Cheshire.
Thomas SCHOFIELD; son; unmarried; 9; born Dukinfield, Cheshire.
Lavinia SCHOFIELD; dauhgter; unmarried 5; born Dukinfiled, Cheshire.
Sarah; niece; 16; cotton spinner; born Dukinfield, Cheshire.
HO 107/2237,folio 628
John was an inkeeper possibly at the Battle of Middleton pub on Astley St Dukinfield Cheshire. John d. 1855 Stockport. Unable to find the parents of John SCHOFIELD.
Another brick wall- Who are the parents of James LAMBERT & wife Honor OCKRIDGE?
Elizabeth SCHOFIELD [ above] dau. of John & Ann married Samuel LAMBERT 13 May 1849 Cheadle, Cheshire.
Cheshire Marriage Index on line
Samuel LAMBERT- Elizabeth SCHOFIELD; Church Cheadle, St Mary; Register at Stockport; ST/65/6/473
Samuel LAMBERT b. 24 August 1824, Denton Lancashire son of John LAMBERT & Honor OCKRIDGE

Source: source for birth appears on his gravestone.. However the 1851 census Dukinfield states he was born in Hyde. Cheshire.
IGI Samuel LAMBERT b. 15 July Bapt. 25 August 1824, Gee Cross, Unitarian NC- Hyde, Cheshire, father Jack LAMBERT mother- Mary HAWCRIDGE[ ? Orkeridge? Ockridge]
1851 census Dukinfield-Astley Street
Samuel LAMBERT, Head; age 25; married; coalminer; b. Hyde Cheshire
Elizabeth LAMBERT; wife; age 24; married; cotton weaver; b. Staleybridge, Lancashire.
James LAMBERT b. circa 1794 Hyde, Cheshire, based on age 1851 census Dukinfield
James LAMBERT; head; age 57; married; coal miner; b. Hyde Cheshire
Ann LAMBERT; wife; age 47; married; coal miner? b.Denton, Lancashire
Thomas Ockeridge LAMBERT; son; age 18; unmarried; not jotted down b. Denton, Lancanshire.
[Note wifeís name appears here as Ann]
The surname OCKRIDGE also appears as HAWCRIDGE, OKERIDGE, HOCKRIDGE and ACKRIDGE
James & Ann had 2 sons Samuel [ 1824] above and Thomas Ockeridge LAMBERT [1832]
These are my brick walls. Anyone recognize any of these families?
Thank you for any assistance you can give.
Contact: Marge Perry, California: mep33@sbcglobal.net
message posted 28th April 2007
---
CHATTERTON and MORTIMER
Hi can anyone help me in my search for my family members, either by the name of Chatterton or Mortimer.
The family members I know of are
Thomas Chatterton died in 1916 .
Herbert Mortimer coal man from Dukinfield .
Rachel Mortimer / Chatterton also from Dukinfield .
Jean Chatterton ...... Dukinfield and Durham and Woodhead.
Thank you very much in advance .
If anyone knows anything no matter how small please contact me:
dreamforme1966@aol.com.
message posted 21st April 2007
---
SHEPLEY and BROWNRIDGE "brickwalls"
Hello, Friends,
I have a couple of brick walls with surnames SHEPLEY and BROWNRIDGE which I hope SKS can help me demolish.
First is the family of my 2x ggrandmother Ann SHEPLEY. About 1830 she married John MOTTRAM b. 1799 Broughton Lancs. Her death was registered at Ashton Ap/Jun 1881.
Thanks to a wonderful MOTTRAM cousin, I have John's pedigree well documented to abt 1738. Yet this couple's marriage date and location and her pedigree have eluded us.
I have the family in all censuses from 1841 where they are living at Fold, Staley. In 1851 they are at Carrbrook as follows:
HO107/2239 - page 2 - folio 316 - sch 6 - Carrbrook.
John MOTTRAM - head - mar - 52 - colour mixer - born Lancashire,Broughton.
Ann MOTTRAM - wife - mar - 43 - at home - born Lancashire, Manchester.
Mary MOTTRAM - dgt - 19 - reeler cotton - born Cheshire, Micklehurst.
Sarah Ann MOTTRAM - dgt - 17 - reeler cotton - Cheshire, Staly.
Esther MOTTRAM - dgt - 15 - reeler cotton - born Cheshire, Staly.
Jane MOTTRAM - dgt - 13 - scholar - born Cheshire, Staly.
Elizabeth MOTTRAM - dgt - 10 - scholar - born Cheshire, Staly.
Hannah MOTTRAM - dgt - 8 - scholar - born Cheshire, Micklehurst.
William MOTTRAM - son - 5 - scholar - born Cheshire, Micklehurst.
Ann MOTTRAM - dgt - 2 - born Cheshire, Micklehurst.".
I see from 1811 censuses that there are a few SHEPLEY families in the area. I hope that someone researching SHEPLEY might recognize her.
The second stumbling block is Mary BROWNRIDGE b. Lancashire abt 1766. She married Ralph MOTTRAM [father of John above] at Cathedral Manchester in 1792. Ralph died bet 1839/1841. Mary died in 1841 age 73, and is buried at St Michael's Church, Mottram-in-Longdendale. She is found in the 1841 census at Carrbrook as follows:
HO107/102 - page 2 - folio 4. - Carrbrook.civ par Mottram in Longden Dale, Macclesfield Hundred, reg dist Ashton under Lyne, sub reg dist Stayley. Addr: Carrbrook, Micklehurst, Cheshire
MOTTRAM Mary - 70 - not born in this county
Thomas MOTTRAM - 25 - printer - not born in this county.
Ellen MOTTRAM - 25 - not born in this county.
Mary MOTTRAM - 4 - yes born in this county.
Elizabeth MOTTRAM - 1 - yes born in this county.
Thomas MOSLEY - 25 - printer - not born in this county.
Thomas BENTLEY - 25 - carter - not born in this county.
Thanks for any assistance.
Contact: Faith Smith Fredericksburg, VA: daylily12@juno.com
message posted 11th April 2007
---
Does anyone recognize the people in this picture?
This is the family of my ggrandparents taken about 1892 shortly before their emigration to the US. Standing top right is Gideon VAUTREY, seated to his right is his wife Ann nee MOTTRAM. On the floor, Stanley age 12 and Ann Ellen 10. Behind Ann Ellen is Mary Ann 22. One son, Emmitt age 16 is not with the group.
The couple at left is a puzzle to me. The man might be Ann's cousin, either John SHAW age 29 or Joseph SHAW age 27. The Shaw boys were b. Staley. Their last known residence was at Spring Bank, Staley in 1881, with their grandmother Ann MOTTRAM [nee SHEPLEY] in a household that also included the VAUTREYs.
I can't find the Shaws after 1881. Their parents were Joe SHAW and Esther MOTTRAM, married in 1862.
I'm hoping someone researching SHAW will recognize the names so we can share information.



















Contact: Faith Smith Fredericksburg, VA: daylily12@juno.com
message posted 11th April 2007
---
Long! Lost! friend Geoff Lindley
Looking for information on a friend called Geoff lindley. We were friends in the 50'S & 60's and lost contact after I moved to Canada.
We were both members of the Albion Tennis club On Taunton Rd.
If any of your readers know of his whereabouts it would be very welcome.
Contact: Jim Marsh: canada.bears@telus.net
message posted 9th April 2007
---
I am seeking information about the death of Mr Robert (Bob) B Morris
Late of 54 Heron Drive, Audenshaw, Manchester M345QX Ė this being the last address known for him up to around two years ago.
He lived in Johannesburg, South Africa for a number of years which is where I met him, but he had moved back to the UK in the 80ís. Other friends in Australia who had maintained contact with him had a holiday with Bob in 2000 where they visited various friends including some in the UK. Two years ago a Christmas card was returned to my friends in Australia by a kind lady whose husband had bought Bobís flat, saying it was from a deceased estate. However, when my Australian friend wrote to the lawyer who did the paperwork he denied any dealings with Bob so no one has been able to find out what happened to him.
We would all like to know what happened to Bob so if anyone can shed some light on the subject we would be most grateful. Please feel free to contact me on any of the contact details set out below.
Contact: Corinna Turner
Tel: Skype: 020 8133 5324
Cell:+44 (0) 77 8919 6234
corinna.turner@btinternet.com
corinna@binary.za.com
message posted 24th February 2007
---
John Frederick Cheetham and Beatrice Emma Astley
Searching for information on John Frederick Cheetham 1835-1916 & his wife Beatrice Emma Astley of Stalybridge also John Fredericks father John 1802-1886 & John Fredericks siblings.
Contact: Shirley Stansfield: shirl.i@ntlworld.com
message posted 28th January 2007
---
John Archibald Hood
G'day and a Happy New Year from Sydney, Oz.
I seek information re John Archibald HOOD and his family, who rented Quick House, Quick Rd, Mossley for about 8-10 years up to 1930. Jack Hood, one of the children became Councillor Hood, Chairman of Saddleworth UDC for many years post WW2. My mother was Florence Lucy Hood, twin sister of Fanny, and they lived at Quick House. Any info please to Peter on greensleevesoz@hotmail.com.
Contact: Peter: greensleevesoz@hotmail.com.
message posted 3 January 2007
---