Message Board 2006

This is your page to advertise the names of families you are researching and missing ancestors in Tameside. You can also include photographs and links to your own websites etc. The only stipulation is that the families must have lived in one of the towns that make up Tameside. Please e-mail me at: gayjoliver@gmail.com, and put MESSAGE BOARD in the subject line. You must also let me know what contact details you want to appear on-line.
If you want to search for exampes of your surnames in this page use control and F on your keyboard. Please make sure you visit all four pages.


---
Joseph Chadwick/Elizabeth Nield
Joseph and Elizabeth were my ggrandparents who immigrated to Canada about 1894. Any information on these families would be greatly appreciated.
Joseph Chadwick was born Jun 17, 1852 in Stalybridge, Ashton under Lyne, Lancashire, England, and died Nov 02, 1942 in Fanny Bay, British Columbia. He married (1) ? Hurst. He married (2) Elizabeth Nield Jun 1876 in Castle Hall (Stalybridge), Holy Trinity , Ashton under Lyne, Lancashire, England. She was born Nov 07, 1849 in Stalybridge, Ashton under Lyne, Lancashire, England, and died Oct 01, 1918 in Valleyfield, Quebec.
Children of Joseph Chadwick and Elizabeth Nield are:
i. Caroline (Carrie) Chadwick, born Dec 24, 1877 in Stalybridge, Ashton under Lyne, Lancashire, England; died in Hollinsworth, Lancashire, England.
ii. Harriet Ann Chadwick, born Mar 27, 1879 in Mottram, Cheshire, England; died Nov 17, 1973 in Burnaby, British Columbia. She married Albert Edward Beattie Dec 12, 1900 in St. Mark's Church, Valleyfield, Quebec; born Sep 13, 1872 in Mille Isles, Quebec; died Jul 14, 1945 in Saskatoon, Saskatchewan.
iii. Mary Elizabeth (Polly) Chadwick, born Feb 18, 1881 in Mottram, Cheshire, England.
iv. John Chadwick, born Jul 29, 1883; died 1969 in Edmonton, Alberta.
Contact: Robert Vankoughnett: rvankoughnett@sasktel.net
message posted 23 December 2006
---
Is anyone researching Ella KAY and Oliver Reginald WARNER?
Is anyone researching Ella KAY and Oliver Reginald WARNER? They married in 1922 at Christ Church Ashton under Lyne, and I think she's my first cousin once removed. I also think I may have a photo of her, but I cannot prove it, and it could be another relative called Ella GOODWIN.
Can recognise the girl? I think the boy is my father!


In theory: the little boy on the right is my father, Sidney KAY born 26 Feb 1909 in Cleethorpes Lincolnshire, and the little girl on the right is possibly his sister, Gladys KAY born 27 May 1904 also Cleethorpes, but she died on 7 Jan 1910. They were the children of Sidney KAY (1871 Ashton under Lyne -1953) and Hannah GOODWIN (1871 Dukinfield -1947). However, I was always told that Gladys died before my father was born - this I know to be untrue as I have the relevant certificates which prove otherwise.
The question is could he be less than one year old? I doubt it. Therefore could she be a cousin? The only likely candidates I know of are:
Ella KAY, born 1896 Ashton Town, daughter of Charles KAY (1869 - 1897) and Mary Hurst MORT (b 1868)
Ella GOODWIN, born 1897 Ashton under Lyne, daughter of James GOODWIN (b abt 1872) and Mary Elizabeth KAY (b abt Feb 1875)
Each were obviously named for Ella KAY nee GODBER who married my illusive Edward KAY on 25 Dec 1862l.
Sidney KAY (senior) is brother to Charles KAY and Mary Elizabeth KAY: Hannah GOODWIN is sister to James GOODWIN.
And in case this is possible and helps to clarify, the following is a picture of Gladys with her parents, the above named Sidney Kay (senior) and Hannah Goodwin.


Contact Judy Kay: jayaitchkay@btinternet.com
message posted
16 December 2006
---
Ernest SYKES VC - (b. Quick Wood 1885). His mother Ruth SYKES (b. Honley) was sister to my great-great grandfather Allen SYKES. Would like to find out more about his sisters Helena and Mary,his descendants and theirs. Also looking for information about his grandfather Benjamin, grandmother Ann (Hannah nee Brierley) and their offspring. The family moved from Honley to Mossley/Saddleworth between 1851 and 1861.






This picture is of Joe and Ann SYKES with their son Wilfred. Joe (b. 1866) cousin to Ernest, was the son of Allen SYKES and lived in Mossley, Shelderslow, Waterloo and then Oldham.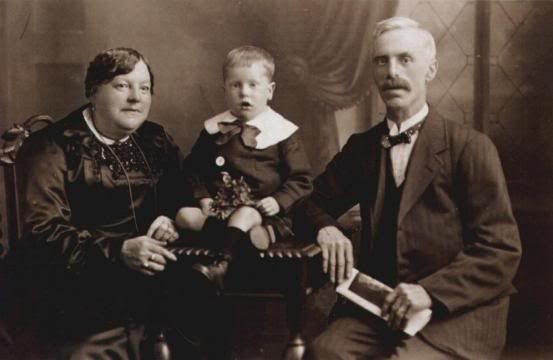 Always happy to share information.
Contact: elaine.sykes @sympatico.ca Living in Toronto.
message posted 19th October 2006
---
MARSHALL from Mottram
Am researching the family of Joseph Tinker Marshall, born 1813 in Mottram.He married Mary Piggot at Manchester Cathedral 1840 and lived in and around the Bury area for part of the 1840ís and 50ís. He was a calico printer and I would like to find which mill(s) he worked in when living in Mottram and Broadbottom. He had four children, Emma Caroline, John Piggot, Mary Jane and Margaret Hannah Marshall. Joseph died in 1878. Where is CRESCENT OR CRESCENT ROAD? I cannot find it on the map or when I visited the area.
Contact: Audrey Dalton at: audrey@boshaw.co.uk
message posted 7th September 2006
---
PODMORE
Trying to trace trace any relatives from the PODMORE family, famous for their sweets and GODLEY ROCK.
Can anybody help?


Contact: Phil Morris at: pmo333@aol.com
message posted 4th July 2006
---
ALDRED Ancestors
My interests are the family of WILLIAM ALDRED. Unfortunately both the given and surname are very common. Some details are; Wm. Aldred, b. abt. 1709, d. 24 Dec. 1779, buried Cross Street Chapel, abt 27 Dec. 1779, married Sarah Ashcroft in Manchester Cath. 7 Oct. 1736. Sarah was born abt. 1716 in or around Manchester, Eng. She died 8 Jan 1783 and is buried at Cross Street Chapel.
Children are; Hannah Aldred, b. 2 Mar. 1737, d. 11 Oct 1799, buried Cross Street Chapel. She married Daniel Barlow in Manchester Cath. 21 Jul. 1768. Daniel was a widower with one son John. They had 2 more children that I know of.
John Aldred , b. 29 Dec. 1738, d. 1741.
Alice Aldred, b. 11 Apr. 1741, d. unknown.
Mary Aldred, b. 27 Oct, 1742, d. unknown.
Betty Aldred, b. 28 Jul. 1745, d. unknown
There are 8 additional children born to this couple, most of whom died young, or at least I have no date of death. Except for one William Aldred, b. 16 May, 1760. He and his family at the time emigrated via Liverpool in 1794. I have much info regarding the family as they grew in the U.S.A. My desire is to try and locate a living relative in England, but not knowing any of the father William's siblings or parents, it is proving quite frustrating to establish a thread. Both William the father and son were clothes dyers. They are my 4th and 3rd great grandfatthers.
St. Anne's Church along with Cross Street Chapel seem to be a favorite place for some of their children's christenings, so I believe it safe to say they were non-conformists. I do know that William the son, once in the U.S. became a Methodist and remained so.
Contact: Warren Aldred at: bevwar@comcast.net
message posted 31st May 2006
---
ATKINSON CIRCUS
I have been researching my great grandfather Julius Caesar Atkinson who was part of a touring circus before he married Grace Hunt and settled in Edward Street Openshaw. The circus toured throughout the country and used to set up annually and perform on spare ground near Fergey and Palins works. I have a cutting from the April 6th 1960 Openshaw reporter which mentions the circus as Shah's Temple of Wonders - Bowling Green Hotel Fairfield Road Droylsden which was performing on July 18th 1879 for for six weeks. My g. grandfather's mother performed as Madam Angelo and was of mixed race being born in Calcutta. I can find no other mention of the Atkinson circus and would appreciate if anyone could come up with any more information about it?
Contact:Kay at: lyonskay2002@yahoo.co.uk
message posted 27th May 2006
---
STANIFORTH, LOMAS and PRESTON
I'm looking for anyone connected to Thomas STANIFORTH M. Jane Riley (B. 1842) issue: Mary, Alice, Frank, Sarah, Charles, John Thomas, Ernest, Jane.
LOMAS - Edwin married Harriet Riley 1873 issue: Albert, Edith, born Stalybridge.
PRESTON FAMILY of Heaton Norris Thomas Preston married Betty Sleddon 1805 at Caton. issue: John, b. Liverpool,Ellen b. Liverpool, Alice,Thomas B. Hillgate, Stockport, Joseph, Hillgate, James B. Hillgate.
Would love to contact anyone connected to these families..
Contact: janbevan@bigpond.com
message posted 17th May 2006
---
The Bardsley's of Hough Hill
Looking for info on John Bardsley of Hough Hill, Dukinfield. Born about 1700 died June 1776. Had 3 children Ann, John and Ralph.
ANY INFO ON BARDSLEYS OF HOUGH HILL WOULD BE VERY WELCOME CAROLE BARDSLEY
Contact: Carole Bardsley e-mail at: carole@parryclowes.com
message posted 18th April 2006
---
Sidebottoms and Warhursts
I am trying to find connections to my family line.. My grandfather Ernest James Platt was born in Lum Hollow, Hyde,Cheshire England 18 Nov 1868..He was the son of Hannah Platt, born 1850 to John Platt and Grace Cheetham..
Hannah later married Stephen Needham in 1871..Leonard and John were the other children..Leonard married Florence Rhodes. Ernest James Platt, married Amelia Andrew also born in 1868 in Dukinfiled to George Andrew and Sarah Jane Knott.. Ernest and Amelia and their first born son Claude, came to the United States in 1892 with a cousin John J Allen..John Allen was the child of Priscilla Platt, also child of John and Grace, and Hugh Allen..Another child of John and Grace was Robert Platt born in 1847.. John Platt was born in 1814, Mottram in Longdendale..I believe his parents were Robert Platt and Hannah Ingham..
I would love to be able to find any connections to these family lines..
Contact: Mary Platt Panajiavia e-mail at: MPANAJIA80852@aol.com
message posted 7th April 2006
---
Sidebottoms and Warhursts
My husbands GGrandfather was Ralph SIDEBOTTOM born approx. 1830 in Hollingworth. He was the son of Isaac and Hannah Sidebottom. Ralph married Ann Warhurst in 1856 at Ashton under Lyne. She was the daughter of William and Amelia Warhurst,
Is anyone connected to this family please? Judith Varley [Leeds]
Contact: Judith Varley [Leeds] via e-mail at: judith.varley@btinternet.com
message posted 7th April 2006
---
Looking for Information on Arthur Rogers
Hello. I thought I would contact you to see if anyone has an interest in war memorials, specifically if anyone knows anything about:
Rogers, Arthur, Stoker 2nd Class, C/KX 142412. Son of James and Rose Ann Rogers, of Dukinfield, Cheshire. Killed in action 16/02/1944, age 20. Commemorated on Panel 78, 1 of the Chatham Naval Memorial, England.
In 2005 I wrote a book about the loss of HMLST 418, see http://freepages.military.rootsweb.ancestry.com/~tmi45/OurVic.htm The book mentions Arthur Rogers as he was lost aboard the vessel, along with my grandmother's brother. Although I have completed the book I still keep collecting new information.


contact: Mark Gamble via e-mail at: markg.kareneg@virgin.net
---
Trying to find Dorothy HARDING
My maternal grandmother was born, Bertha HARDING, on 2.3.1894 at 17 Mary Street, Taunton, Ashton-u-Lyne. Her mother, Charlotte (nee BELFIELD) died 10 days after Bertha was born.
In the 1901 census the family was still living at 17 Mary Street but Samson HARDING (my great grandfather) had remarried - to Mary (nee EDWARDS) and there were two further children: Sarah HARDING born 6.10.1896 and Arthur HARDING born 1898.
Bertha HARDING married Harry WRAGG of 76 Turner Lane AuL on 26 April 1913. They had two children: George born 28/10/1913 and Elizabeth (known as Betty), my mother, born 15/3/1917 Bertha and Harry later separated and Harry took the children to live with his unmarried sister, Ethel, at 17 Turner Lane (near Charlestown Station).
Bertha Wragg died on 28/5/1947 aged 55. Her death certificate shows that she was living at 35 Henrietta Street (now a car park!) The informant on the death certificate was Dorothy Harding described as 'daughter of the deceased'. Dorothy may still be alive. If so, she would be an aunt of mine. I'd love to find out where she is or what happened to her.
Please get in touch if you know anything of these families.
Contact: Meg Gain via e-mail at: meg2gain@yahoo.co.uk
message posted 17th February 2006

---