I would appreciate any information on the "Torkington" family and any evidence of why the surname was used as a Christian name for my Grandfather. Thank you very much. Ray Crosby (My mother was Sarah Pollitt of Haughton Green)

Ray Crosby: Christine.Crosby1@btinternet.com
message posted 7th November 2004
---
Can anyone help to identify people on this Wedding Photo?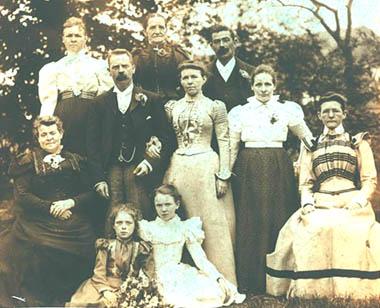 The marriage of Edwin Gee to Mary Ann Fletcher, July 1899, Saint Maryís, Newton Moor, Cheshire Edwinís daughter, Annie, age 9, sits in front of her father, wearing the dark dress.
Ruth Beck: geefamilytree@aol.com
message posted 30th October 2004
---
Searching for any information on the IVES family from Stalybridge
I would first like to say how helpful your site has been - its very good.
Would it be possible for you to post something on your website please. My father-in-law is Frank Ives and he was born in Stalybridge. He cannot remember when his father was born and his exact death and I am trying to find out for him. He said his name was Harry and he thinks he was born in 1908 and died around 1942, I can't, however find any records on the BMD INDEX for this name.
Can anyone help - I have the following info.
George Ives born 1869 married Fanny Pickles, They had three children that I am aware of. Frank, born 1895 - died 1916, a girl I am currently tracing and Harry whose real name could have been Henry. I also know that Harry married Ann Swift and they had two boys. Frank - my father-in-law and Vincent. If anyone can help with the dates for Harry, I would really appreciate it.
ivesj4@aol.com.
message posted 26th October 2004
---
Staniforth, Revett and Wade Families
Any information about surnames Staniforth, Wade and Revett in Dukinfield and Stalybridge would be very welcome.
My Gt Grandmother was Eunice Staniforth (nee Revett), she is buried at Old Chapel, but her parents were supposed to have fled from France and I don't know where she was born.
Also my Grandmother Doris Wade (nee Staniforth) born 10/10/1910, I presume she was born in Dukinfield, but not sure.
I also have no details about my Gt Grandfather other than he was a Mr Staniforth.
thanks Maxine (Wade): cal1m@aol.com
message posted 5th October 2004
---
Looking for OUSEY Ancestors and a man called PLANT
All those memories of ashton. I'm just glad that other people remember the same things as I do. The broken biscuit stall in the market was GLEAVES and it was great. I wonder if anyone remembers the roundabout on the market in the 50's. A lady called Dorothy ran it and it cost 2d. Those men who sold crockery - all that throwing up and balancing a whole service on their arms. I saw mention of UCP tripe shop. I remember my aunt going I hated it - can't stand tripe.
My family research is coming along and at present I'm trying to find references to my OUSEY connection. My grt, grt grandfather was JOHN OUSEY butcher of Hurst Brook.His son JAMES married MARIA CHADWICK in 1874. I have their certificate and her father's name is given as PLANT CHADWICK spinner of Katharine St. Does anyone know if this would be a real name or a nick name. My other connections are PERKS, Dukinfield, CLARKE , Rycroft area, and BRINDLEY.
Contact Kath at: kathleen@morningsupu.fsnet.co.uk
message posted 5th October 2004
---
Samuel BOWERS Tripe Dresser, born Stalybridge about 1847.
Married 1) Elizabeth Knott 1865
Children:
Elizabeth Ann bc 1868, married Samuel HALLAM bef 1891
John Samuel BOWERS b 18 Oct 1871 Oldham, married Amelia CHADWICK 4 Jun 1898, son Norman born 1905 and they emigrated to Canada soon after. Descendants known.
Married 2) Hannah after 1871 but before the 1881 census. The following children could be with either wife.
Joseph Edward BOWERS bc1872 Oldham
Thomas BOWERS bc 1874 O/m
William BOWERS bc 1878
James Edward BOWERS bc 1879
Eliza BOWERS b1881
My connection is through Amelia Chadwick who was my great-grandmothers sister. I am in touch with the family in Canada.
Is there anyone out there related to any of the BOWERS family?
In 1881 they were living at 11 George Street Oldham, in 1891 the children were living with the eldest, Elizabeth Ann and her husband at 54 Franklin Street Oldham.
Sandra Burge
Ucheldir, Maenygroes, NEW QUAY, SA45 9TH: sandrabur@tesco.net
message posted 2nd October 2004
---
Has anybody found links to my GREENOUGH Family
If anyone could help I am trying to contact anyone with connections my GREENHOUGH family in the Tameside area, mainly Droylsden, Audenshaw & Denton areas.
Thanks.
Julia Greenough: jdgreenhough@dsl.pipex.com
message posted 28th September 2004
---
Searching for Connections to my FELTON/HASLAM Family
I would be interested to hear from anyone regarding my great grandfather William Samuel Felton (Willie Sam). he was born 15 Feb. 1877 19 Canning Street Ashton-U-Lyne to Frederick Felton & Alice Spencer. Willie Sam a master cycle maker married 13 April 1899 to Nancy Ann Haslam b 5 May 1874 Denton daughter of James Haslam & Elizabeth Birch.
I believe that Willie Sam was convicted of manslaughter I think in the 1920's for manslaughter and served some time in Strangeways Manchester.
If anyone can give me more information on the case or has any connection with my Felton/Haslam family I would love to hear from you.
Julie: julie@cybersoftcentral.com
message posted 28th September 2004
---
Looking for the marriage of SAMUEL HOLDEN and ABIGAIL NEIL (NEILD)
Looking for the marriage of Samuel Holden to Abigail Neil(Nield,Neild). G-g-grandpa John was baptized at St. George's in Mossley in 10 Feb 1839. So marriage would have hopefully taken place before that. Here's what I have so far:
Samuel Holden possible parents James Holden and Ellen (Nelly) Hanson m. St. Chad's Church, Saddleworth 24 Aug 1795. Children all baptized St. Chad's, Saddleworth:
1. Zabulon 18 Feb 1796 (James listed as Clothier)
2. Nathan 23 Feb 1798
3. Ann 16 Apr 1802
4. James 06 Nov 1804
5. James 03 Apr 1809
6. Mary 06 Jan 1812
7. Samuel 04 July 1815
Haven't found any deaths for any of them, but more than likely James#4 probably died in infancy. Haven't found any marriages for any either.
Possible for Abigail Nield (think that may be maiden name) has Neil on marriage cert as mother, but he was also incorrect as to where he was born. Said Mansley. Both parents Samuel and Abigail died before he was 12, he was raised by step-mother Mary Ann Smith, so possible a lot wasn't past on correctly.
Abigail Nield-parents? James Nield and Hannah ? baptized 17 Sept 1811, Dob Cross siblings:
James 1805,
James Buckley 1808,
Mary 1814,
Thomas 1817.
Would Abigail's mom possibly be a Buckley? John bap. 10 Feb 1839 St. George's Mossley ( birth date on tomestone 10 Jan 1838) Abigail died 23 June 1842 buried St. George's, Mossley, living in Brown Edge at the time. Age 30. 1841 Census Mossley Brow:
Samuel 25 Blacksmith
Abigail 25
John 2
Living with Ralph Marsden & family:
Ralph 55 carrier
Betty 45
James 15, Ralph 15, and Dorothy 1

Samuel marries Mary Anne Smith St. Chad's Rochdale 31 July 1843 Both living in Saddleworth at the time. Ralph born Jan 1845.
Somewhere between Ralph's conception and 1851 census, Samuel died. He was a blacksmith. Haven't found death cert for him.
June 1864, Mary Ann's sister Eliza Lees and Ralph (listed as Lees, but pretty sure it's them) arrive in New York. Eliza's hubby Edwin probably came over first, as persistant rumor that Ralph came over to live with uncle.Haven't found them yet, but think Mary Ann and John came over in June of 1856 (that's what he has on declaration of naturalization)
Hoping someone is researching these families. Would love to find descendants of Smiths, Holdens, and Nields.in England.
Michele: michelestitch@aol.com
message posted 27th September 2004
---
COCKILL/COCKHILL family
Just found your website. It's great!
Looking for anyone interested in this name. My earliest record is of Stephen COCKHILL married to Ellen SAXON on 7/Dec/1775 at St Michaels, Ashton. Their descendants were all from Ashton until the mid 1850s, when they start to appear in the Ardwick, Openshaw and Ancoats areas.
Other families married in include GREENWOOD, HUTCHINSON, MASON, PLATT, STANDRING and TINSLEY.
Ray Atkinson, Stockport: raa.raa@ntlworld.com
message posted 27th September 2004
---
Can anyone help to find Monica?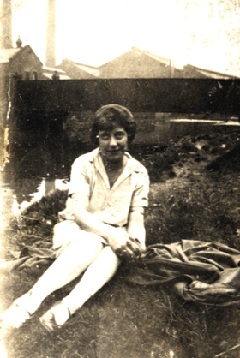 &nbsp
&nbsp
&nbsp
I am trying to find information on my MOTHER Monica GIGGLE who lived at 15 Providence St Dukinfield in the 1930's. She had moved there from BEDFORD, and info or help would be very appreciated. She worked for years at BOWKER & BALLs MILL even after she married my father (WILLIAM JOSEPH RILEY). My name is Michael Riley. The picture attached is of my mother by the side of the canal near Whitelands road.
&nbsp
&nbsp
&nbsp
&nbsp
&nbsp
&nbsp
&nbsp
&nbsp
My email is: jestersriley@aol.com
message posted 1st September 2004
---
Anybody know where Robert Hamlet/Hamnett's brothers and sisters got to?
Looking for any siblings of Robert Hamlet b. 1850 in Dukinfield, son of John Hamlet and Mary Froggatt(b.Ashbourne) married in Oldham June 1849.
The 1851 census shows the family living on Oxford road, Dukinfield.
For reasons unknown Hamlet became Hamnett before the 1871 census when I next found Robert.
I would love to hear from anyone else researching this family.
Heres' hoping!
My email is: thechadwicks@btinternet.com
message posted 29th August 2004
---
Does anyone recognise my Newton Family from Audenshaw?
I am searching for descendants of and information on James Newton, my great great grandfather. He married Betty Hayes in M/C Cathedral in 1830. He was already a widower and his occupation a hatter. In 1851 the family is living in Lumb Lane, Audenshaw but James is again a widower. The children are Sarah (my great grandmother), John, Ellen, Edna and Martha. By 1861 Sarah has married Henry Harding (weaver) and they are living in Droylsden. By 1866 Henry has become a hatter and they moved to Stockport.
Nextdoor to the Newtons is another James Newton, wife, Hannah, and children John, Elizabeth, James and William. Having acquired this younger James's marriage certificate it seems that he is more than likely to be the son of my great great grandfather, James, by his previous marriage.
Please get in touch if you have any imformation - ruth.hargreaves1@ntlworld.com
message posted 19th August 2004
---
Looking for information on Percy or Percival Nixon born 1908 or 1909 in Stockport, birth registered in Hyde.
In about 1936 to 1939 he was living in Bradford, West Riding at the same address as a woman or women variously listed as Jane, Helen or Ellen Nixon. She or they may have been related or not.
Thanks in advance from Norman in Dunedin, NZ: ennarrgee@clear.net.nz
message posted 17th August 2004
---
Looking for Bertha Brierley's family
I am trying to find out any information about my grandmother's family. She was born Bertha Brierley in Stalybridge 15/7/1906 and lived in Lindsay St and Huddersfield Rd. Her father was a commercial salesman. Any information would be gratefully received.
Contact Nick Duckett e-mail: nick_duckett@hotmail.com
message posted 29th July 2004
---
Help me find my COOK Family from Stalybridge
Looking for any information about the Cook family of Stalybridge, particularly about Thomas Cook and Susanna, parents of Benjamin Cook b. 1839 and christened same year at St. Michael's Ashton u. Lyne. At some point in the 1830's they lived on the Sheffield Road near the Eagle Inn.
Benjamin married Sarah Shaw in 1862 at Holy Trinity Castle Hall and emigrated to the United States in 1869. Thomas and Susanna had many children including Susanna, Benjamin, Joseph, Orlando, Jane and Martha born in the 1830's and 1840's.
Thank-you Alan W. Cook Email: cooka@trans-video.net
message posted 25th July 2004
---
Lily Mason and Robert Hambleton
Looking for descendents of Lily Mason born 1887 (father's name was Peter). Lily married Robert Hambleton in Stalybridge in 1903. She had a brother named Jack who was married to Gertrude - they lived at Belle Vue, Manchester. Lily was my grandmother. Thanks Ellen.
Please contact me at: mananugent@blueyonder.co.uk
message posted 11th July 2004
---
Searching for ROBSON/COLDBECK/WILLOCK Family Information
Harry Robson was brought up in Ashton under Lyne in the home of George and Elizabeth Willock from c.1879 until he married Lily Coldbeck in 1895. They then lived at Kenyon Street, Ashton Moss. After Lily died Harry remarried and lived in Ashton until c.1911/12 then moved to Hulme.
Whilst in Ashton Harry worked as a carter for Barretts Mineral Waters and family history said there was a photograph taken of Harry and his mate Harry Burrows standing next to the first motorised vehicle Barretts owned. Does anyone know where I may obtain a copy of this photograph? (Neither Tameside local studies nor author of book about Barretts have any knowledge of it).
Harry Burrows was witness at wedding of Harry Robson and Lily Coldbeck as was Ellen Woodcock. Who are these people?
Harry Robson also played a cornet in a local brass band. Did Barrett's have a brass band?
Would be grateful for any information on the above.
Please contact me at: pm1.robbie@lineone.net
message posted 1st July 2004
---
Searching for WALTER FISHER
Looking for decendents of Walter Fisher of Robinson Street, Stalybridge ( 1901 census) or any of his family. Walter was born in 1870 at Skelton, North Riding, Yorkshire, to Caroline and George Fisher. Walter married Nelly Hague at Ashton under Lyne in 1890. He had three sisters. - Emma Mary Ann, married Sydney Shepherd at St John's Dukinfield in 1887, Maria, married Joseph Bayley at Ashton under Lyne in 1893 and Georgina, married Vernon Worral at Christ Church, Dukinfield in 1898. He also had two step-brothers Dick and William Lock. Emma Mary Ann Fisher was my great-grandmother.
Please contact Aaron Francey (Sydney, Australia) at: francey4@froggy.com.au
message posted 20th June 2004
---
Searching for GEORGE BOOTH
I would be pleased if you would include this enquiry on your message page.
Searching for any information on my great-grandfather George Booth b.c.1828 f.Joseph m. Mary Jones.
George d.1898 Vic Aus.wedding cert. states born Tintwistle.
Please contact Ken at kkbooth@alphalink.com.au
message posted 8th June 2004
---
WATERHOUSE / SCHOFIELD / BAILEY / THACKER / WHITEHEAD / SYKES FAMILIES
Waterhouse - George 1807-1885, Edward 1838-1875, Samuel 1872-1827 and any who have "Hyde" as middle name. Chapel Street and Shepley Street Stalybridge and High Street Stalybridge/Dukinfield.
Schofield - Benjamin 1827-early 1900's. John Thomas 1854-1918, Matthias 1878-1946. Roughtown area of Mossley.
Bailey - John who married Elizabeth Ogden and had children Harvey born 1867 and Mary Emma 1873-1940. Ashton-under-Lyne.
Thacker - Samuel who married Ann Hobson and was an ironmonger. Children Ann Dutton, Joseph born 1840 and Sarah Elizabeth 1837-1912. Also some conection to Joseph Thacker who was ironmonger and Mill Owner on Bentinck Street. All Ashton-under-Lyne.
Whitehead - William married Hannah Buckley and they had children Betty 1809-1872, Ralph born 1812, John Buckley born 1819, Hannah born 1821, Frederick born 1824, Jane born 1828 and Mary Ann 1831-1894. Rassbottom Street, Stalybridge.
Sykes - Sophia married 1. Thomas Parkin and 2. James Schofield. Mossley
Any information regarding above families would be appreciated. For more information, please see my website http://www.familypast.net
Please contact Judith at: judith.heap@btinternet.com
message posted 15th May 2004
---
Looking for Walter Hey's ancestry
I am trying to uncover Walter's heritage.
I do know that his second wife was a Mary Stones, they were married at St Peter's in Ashton- under-Lyne between 1897 and 1901
His first wife Caroline Mercer? died around 1897 in Phildalphia along with 2 of her children in a POLIO? epidemic.
Walter was born in the Heywood area in April 1861, his mother was Elizabeth Hilton of Bowlee his father is given as Jonathan Heys. The birth was registered by Elizabeth his mother.Residence was given as Hooley Bridge Heap sub district of Birtle registration district Bury
Jonathan was a Cotton Scutcher.
Walter's cousin Frances (known as Fanny) Moore resided at 270 Whitelands Road, Ashton-under-Lyne. She was a spinster. At the time of the 1901 census Walter, his wife Mary, and his 4 children by his first marriage lodged there temporarily
Mary and Walter went on to have a son Walter who lived in the Tintwistle area in later years - he is deceased.
They also had a daughter Ann. I have no information whether she married or not or if she also has passed.
Walter had a daughter Blanche born in USA British Subject; a daughter Ann born in USA British Subject;son John born 1889 in USA British Subject (he was my grandfather and he died in 1937).
A son Harry born in USA British Subject. He is also deceased, I am told he had married a Hannah of Pennistone.
It is believed this part of the family remained in the Tameside area.
I would be pleased if you would place this information on your site for me, this could prove beneficial I am sure.
I know that several people are trying to find links to the Heywood branch and Tameside too, who knows they might come forward with more information.
Please contact Jean at gleview@wilson10.fsworld.co.uk
message posted 7th May 2004
Looking for anyone with a connection to these ROBINSONS in HATTERSLEY, MOSSLEY or ASHTON
7 boys were born in Hattersley to William ROBINSON and Esther WILLIAMSON. The first three died without reaching the age of 5, which left, John (b1836), Joseph (b1839), Aaron (b1844) and William (b1847). Their father died and their mother then married Thomas BRAMWELL they lived Ashton (Greenhurst Farm) and Mossley (Sandbed) I can tell you the following:
John married Mary Ann CLOUGH in St Paul's, Stalybridge in 1861 and had 4 children. He died in 1921 having lived at least 40 years in Mossley.
Joseph (the one I know least about) married Mary Ann GREAVES in 1862 in St Paul's, Stalybridge. Don't know how many children he had and I've not been able to find him on any census since 1861. He is mentioned in his mother's will in 1885 so presume he is alive then. He also received in the will an extra £200 as well as a quarter share, even though he is not the eldest.
Aaron (my great grandfather) Blacksmith of Mossley married Mary Ann CARTER in 1867 in St Paul's, Stalybridge and had 8 children. He died in 1908. His sons formed ROBINSON BROS. Blacksmiths, Snipe, Ashton. He had one son called Webster who had a patent accepted in 1905 when living in Hawke Street, Stalybridge. Does anyone know what happened to him?
The last brother was William a blacksmith in partnership with brother Aaron in Mossley. He married Martha STREET in St Thomas's, Leesfield, Oldham in 1871. He had a least one child Emily. I believe he married a second time a Mary Ann and lived in Newton Heath.
If anyone is related to any of the above or have any relevant information could they please contact me.
Please contact Joan Smith (nee Robinson) via e-mail at: smith.roy@ntlworld.com
message posted 1st April 2004
---
Searching for info on Obadiah Marlands at Twarl Hill Farm
I am interested in (and already have helpful information on) the Obadiah Marlands of Twarl Hill Farm...and their descendants at New Mill and Park Bridge.
No one ( that I know) researching MARLAND genealogy can get past John, who died in 1609, and lived at Hartshead because his father would have been too early for the Parish Register. Yet I suspect a connection with Henry and Thomas Marland, father and son, living in Ashton in the mid-16th century.
Does anyone have any information in this area?
Paul Marland, Ottawa: pmarland@rogers.com
posted: 23rd March 2004
---
Looking for any information about HOPWOOD/MELLOR/FLOOD/BERTENSHAW and HUSTLER ancestors
Zibeon HOPWOOD, born c1843 in Stalybridge, Ches., married Mary MELLOR (born c1842 in Stalybridge) in 1861. Their son.....
James Edward HOPWOOD was born c1862 in Stalybridge and married Jane FLOOD (born c1866 in Oldham, daughter of Peter and Susan FLOOD - Susan was born in Ireland) on 1.8.1885. Their daughter....
Lily HOPWOOD, born 9.3.1904 in Lees, married William Edward BERTENSHAW (born 1901, Chorlton, son of William Henry BERTENSHAW and Sarah Jane HUSTLER) on 14.6.1930.
I'd love to hear from anyone else who might be researching these families.
Brenda in Brisbane at: bkoster@bigpond.net.au
posted: 18th March 2004
---
Looking for any information about Tom and Alma ROBINSON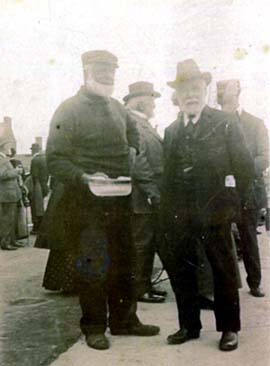 I am looking for any further information I can find about my great grandfather Tom ROBINSON and his wife Alma Mary Elizabeth BOND.
Tom, pictured on the right talking to a fisherman, was born at Salford circa 1854 and married Alma at Mexborough in Yorkshire 5th December 1974. Tom's father William was a stonemason and Alma's father was George Bond.
Tom worked variously as a railway labourer, a coal miner and a general labourer, coming to live in Stalybridge roundabout 1891. During a long and bitterley fought strike at Buckton Vale Works in Carrbrook, he was elected to serve as a councillor for the Millbrook Ward of Stalybridge. He was the first Labour Concillor ever to be elected in Stalybridge. He served from 1895-1898. He later went on to help found the Dock, Wharf, Riverside and General Workers' Union. The Union's Annual Report for 1910 describes him as General Secretary for the Midlands. He then became a full-time worker for the Labour Party. I remember my father talking about the times Evelyn Waugh came to visit. He would sit on Evelyn's knee, listening to the stories he had to tell his grandfather.
Tom and Alma had at least nine children:
Alma born at Mexborough 1875
Nora Elizabeth born at Swinton circa 1877
Alice Ann born at Doncaster 1879
Mary born circa 1881
George Bond born 1883 at Balby (my grandfather)
David born 1886 at Doncaster
Joseph born 1889 at Doncaster
Tom born 1891 at Stalybridge
Agnes born 1893 at Stalybridge
According to the 1901 Census they were both still living in Stalybridge. Tom working as a general labourer and Alma as a midwife.
Please contact Phyllis at: lnpptc@maxnet.co.nz
posted: 8th March 2004
---
I am researching the HALLs of 'Moss de Lee', and the HULLEYs also at one time connected with ?Moss de Lee?.
I am a direct descendent of the Halls of Moss de Lee, Hurst, Ashton-under-Lyne and can trace my roots back to Edward Hall of Hurst christened 1765. His son Samuel was born at Moss de Lee in 1802. Samuel was on the first Local Board for Hurst (1861). Samuels daughter Sophia was also born at Moss de Lee 1843 (I have a photograph of her with 2 of her sisters), her son Edward Wright was born at Moss de Lee 1874, his daughter Ruth was born at Hurst Cross 1902, her Son Raymond was born at Hurst Cross and I am his daughter. I would be very pleased to hear from anyone else researching this family.
Another branch of my ancestors were called Hulley. My great grandmother was Elizabeth Hannah Hulley who married Edward Wright as in the first part of this message. I am directly descended from Robart Hullie born circa 1585. (Elizabeth H Hulley (488), Ernest Hulley (407), William Hulley (301), James Hulley (187), Robert Hulley (115), Mary Hooley (55), James Hulley (28), Robert Hulley (12), William Hullie (4), Robert Hullie (1).) All these names and identity numbers have been acquired from www.hulley.info a site created by Ray Hulley.
I would also be very pleased to hear from anyone else researching this family.
Please contact me at: rita.eden@btopenworld.com
message up-dated 18th March 2004
---
Searching for Ann Jackson in Ashton-under-Lyne 1851
I own a book which has been passed down to me, its heading is "HUNTING SONGS" and other memorabilia, compiled by JOHN JACKSON huntsman Holcombe Harriers, in it there is a chapter where he is being interviewed by Mr.James Whitehead of Edgeworth for the the Preston Guardian. The interview starts by John saying he was born in 1835 in a place called Luzley, Ashton under Lyne, not far from the barracks. He goes on to say his father was Peter Jackson,who was born in 1801(this date is at variance with the 1851 and 1861 censuses for Disley), but the fact is Peter was kennel huntsman to the Lyme Harriers.
I believe that Peter married an Ann Goddard but this isn't proven at the moment,and neither do I know the families address in Ashton.
I found Peter Jackson again in the 1861 census, with his wife Ann, and daughter Betty her husband James and their two daughters Hannah and Elizabeth. Peter was at Disley when the 1851 census was taken, but Ann with their children should show up in the Ashton census of that year. I wonder does anyone have access to the Ashton census for 1851.
From: Stan Jackson: e-mail: burnley@shaw.ca
posted: 23 February 2004
---
Brilliant site -very professional.
I would like to have a mention of the above Bennetts on your site if possible.
I have a William Bennett married to a Martha Ramsden living in Audenshaw around 1914 onwards. They married in North Wales in 1910-but moved to Audenshaw and went on to have children including William; Florence; Thomas and Frank Bennett - Frank being born in 1924. Anyone remember or know anyone who may know of these Bennetts and what happened to them would be brilliant. The rumour is that they were orphaned and moved over to the Isle of Man at one point, but this is not confirmed information. I know Frank went on to marry some one called Winterbottom. Sheila may have been her first name and the marriage was registered in Glossop.
I would be very grateful for any help. Martha would probably be Welsh, but I am not sure about William Bennett-dont know if he was born in Wales or in Ashton-under-lyne area????
From: shirley@ashton1377.freeserve.co.uk
posted: 30th January 2004
---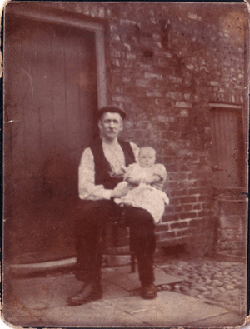 Another Buckley Researcher
I'm researching Buckley's in the Ashton area (I'm already corresponding with Neill Buckley - not related at least from 1800 onwards - & Trevor Lawton who is distantly related).
My ancestors are:
Derrick Buckley b.1929 (m. Constance Giles);
John Buckley b.1889 (m. Florence Wilding);
Forester Buckley b.1860 (m. Martha Smith);
Samuel Buckley b.1821 (m. Jane Stansfield);
WIlliam Buckley b.?? (m. Mary) - possibly both from Glodwick.
I have quite an extensive family tree so far but would be interested in hearing from anyone who can help me push it further back.
Some questions I'm trying to answer:
What was 11 Oldham Road in 1901 & where was it? (a lot of families have it as their address);
When did the Buckley's move from 11 Oldham Road to 101 Turner Lane (where my father was born - I was born at 103 Turner Lane) & did they live anywhere else in-between?
What happened to Forester Buckley's brother Nelson (b.1854) - a coal miner - between 1891 (when he lodged at 3 Langham Street) & 1901 where he seems to have disappeared?
Where was Gordon Street (Forester & his children lived at #8 in 1891)?
Where are the descendents of Frank Buckley (b.~1853, m. to Alice A. ??? - children:Nelson, John, William, Samuel & Alice)?
Can anyone confirm if the attached photo. is Forester Buckley (& where was it taken & who is the child)?
What happened to the gravestones from Christ Church when it was mainly grassed-over? Forester Buckley was buried there & one of my relatives has described the location of the grave (but it's not there anymore).
From: kevin@buckley70.freeserve.co.uk
posted: 27th January 2004
Further to some of the questions above - I now have a couple of answers:
Where was Gordon Street (Forester & his children lived at #8 in 1891)? - It became Rock Street (behind the Atlas Mill). Some of it is still there I believe;
Where are the descendents of Frank Buckley (b.~1853, m. to Alice A. ??? - children:Nelson, John, William, Samuel & Alice)? - They're alive & well & living in Waterloo & Australia. Lily Hulme (nee: Buckley) is the daughter of William Buckley & lives in Australia with her brother Laurie. Some of her brothers & sisters still live in the Waterloo area. "Alice A. ???" is "Alice Clemenson"
Regards, Kevin
posted: 7th February 2004
---
The LAWTON family in Saddleworth, Mossley and Stayley
Happened upon your webpage in the Cheshire Rootsweb Forum. Very professional presentation!, Well done!.
I thought you may care to pay a visit to my 'Genealogy Homepage' where I have collated a mass of information & reference data on the 'Lawton' families of Saddleworth, Mossley, Micklehurst, & Stayley.
Check out my "Lawton's of Saddleworth" database, where I now have almost 7,000 individuals recorded. I am continuously 'Up-dating' the information and reference tables.
You can find me at: http://www.arach.net.au/users/hlawton/Trevor From: trevor-lawton@yahoo.com.au
posted: 16th January 2004
---
The story of how Ben Brierley's poem about Daisy Nook led one man into a prosperous livelihood
Hi Iíve just discovered your pages through Manchester & Lancashire FHS forum and wondered if you could help me publicise my research in some way or perhaps even add to it.
I am researching my family and have gone back to Joseph Buckley (b1836), known as Owd Ab, who was a photographer in Daisy Nook, Ashton in the 1880ís and 90ís. All the family were from that Taunton, Waterloo area and I have made several good contacts from various sources including of course the web.
I have various information that has been published on the web including:
From: neill.buckley@btinternet.com
posted: 16th January 2004
---