Tameside Memories
This is your page to post memories of people and places in Tameside

Just e-mail me at: gayjoliver@gmail.com to add your stories.

---
I don't live in Mottram or anywhere near there now. But I was born there and lived there until 1966. My parents lived there until 1979. Before posting this on your forum you might want to check what the present situation is there and amend as necessary. If anyone wanted to add to this or correct it I would not object.
But here are my recollections of all the shops that there used to be in Mottram in the 1940's and 1950s.
1. Near Wagon & Horses, Matley. Grocery.
2. Albert Place near Tollemache junction. Grocery. Run by Burtons.
3. Mottram Junction. Post Office. Also newsagent, toys and stationery. I think it is still there.
Originally (in my recollection) run in 1940s by Sid and Miriam Broadbent. Later by his relative Jim Bardsley.
4. Mottram Junction on Stalybridge Road opposite Post Office. Bakery run by Mrs Robinson. Property later demolished for road widening.
5. Mottram Moor. Hardware shop run first by Mr White. Later by James Wood. I think that is still there and is now run by his daughter Jean.
6. Mottram Moor. Just below the hardware shop. Newsagent and confectionery run by Harry Hardman.
7. Mottram Moor below junction with Back Moor. Small grocery shop.
8. Mottram Junction. Corner of Hyde Road and Market St. Co-op.
9. Market St. West side below Back Lane. Butcher - Arnold Hall.
10. Back Lane near "Old Post Office" Chip shop. Still there.
11. Market St. West side about half way up. Grocery. Mrs Sheldon.
12. Market St. West side above no 11. Drapery. Mrs Mills.
13. Market St. East side at junction with Temperance Square. Bakery run by Hannah Greenwood. Later by her son Jack and his wife Elsie. Jack opened a restaurant there in the 1950s.
14. Market St East side about half way up. Confectionery shop run by Mrs Robinson.
15. Market St. East side. Butchers. Initially run by Aquila (known as Quiller) Patchett.
His wife used to drive a wooden frame style station wagon with a parrot (Sinbad) on her shoulder. The car was understandably a mess inside. Later the shop was run by Delaney and then Marsland. Marsland founded a Scout group based in the Congregational Church on Stalybridge Road. His daughter Barbara (Correction- I mean Our Barbara) was the cub mistress.
16. Market St. East side above the butchers was a grocery shop. Run by Mr Ashton. Later by Frank Beresford.
17. Market St. East Side below White Hart. Shoe shop run by the Walker family. 18 Church Brow. North Side. Grocery and confectionery run by Mrs Shepley. Later by the Peel family.
19 Broadbottom Road/Church Brow junction.
Grocery and fishmonger run by Martin and Liz Walsh. Later by the Flint family.
20 Broadbottom Road. East Side - nearly opposite the Wakes Ground. Grocery/confectionery run by Emma Swan.
21. Market Place/Broadbottom Road junction. Large listed property opposite the Crown Pole
Originally called 1 Market Place, but renamed by my mother as Crown Pole House in the 1950s. ? Market Place now Ashworth Lane. We ran it as a hardware/electrical shop until 1960. Before the war it had been a grocery shop run by George Rhodes, who was later in Hollingworth. During World War 2 the property was used as a base by the Home Guard We also heard of a previous occupant called Hartney John. Older residents also said it had been a doctor's surgery
Up to the 1950s the property was leasehold from the Tollemache Estates. When paying the estate fees at the Junction Inn my mother saw documents indicating that the property had earlier been called Blenkinsop House. We also heard from older residents that the property was converted to a shop in 1909. They gave us a photograph (which I still have) of it in its earlier state. We found a bill in the shop counter (a 20 feet long mahogany-topped job) indicating that it was previously in a shop at Thompson Cross Stalybridge. After we sold the property in 1979, that counter returned to Stalybridge, to be used by Rothwell Auctioneers.
After 1979 the present owners converted the property, moving the living accommodation upstairs and creating bedrooms in the large attic space. The ground floor shop is currently let to a hairdressing business and the former front lounge is now a beauty parlour. The Crown Pole House name has been applied to the upstairs flat with entrance off Broadbottom Road. They also demolished an outbuilding and erected a new terrace house on Broadbottom Road. There were signs (filled up former windows) that there had been a house on the site before.
22. Hattersley. Near Bunkers Hill Farm. Small grocery and confectionery.
23. Hattersley. Pingot Lane (it ran behind the New Inn). Small grocery and confectionery.
24. Mudd Cottages There may have been a small grocery and confectionery shop there.
I don't think there are anything like 24 shops there now. Will help with any queries if I can.
All good wishes
| | |
| --- | --- |
| Roger Brian | Posted 8 September 2013 |
---
Pillings Dance Studios - Young and Foster Families
I am actually a Dukinfield girl born and bred but my dad's family lived in Ashton. My grandfather, William Young, ran a barber's shop at 76 Portland Street, and though he died before I was born his son Fred, my uncle, ran the shop part-time for many years after that. We used to go and see Granny Young on a Saturday morning and I remember walking through the barber's shop, where Uncle Fred was busy cutting hair, to my granny's room at the back, where she also did a bit of business as a dressmaker.
Growing up I was a fanatical ballroom dancer and danced mainly at the Premiere Ballroom and at Pillings in Katharine Street. I had a big crush, as did most of the other young girls, on the teacher, Norman Pilling! Because I was so keen and quite good I was so-called 'on the staff' of this dance school. That didn't mean you were employed, it just meant you got in for nothing and helped Norman and Doris Pilling by dancing with those young lads who couldn't dance at all and trying to teach them a few steps. Ashton Palais ballroom was only for big events as I remember, and not a favourite of mine.
While at Pillings, on a Sunday afternoon for ballroom dancing formation classes, I used to dash to my Aunty and Uncle, Arthur and Hilda Foster, in Jackson Street, Ashton for my tea. This was quicker than going home to Dukinfield for tea, only to come back for the Sunday evening dance session at Pillings.
I hope this might bring up memories for other folk.
Regards
| | |
| --- | --- |
| Winifred Watt (nee Young) | Posted 17 August 2013 |
---
Memories of 147 Union Street, Ashton
I have only very recently stumbled across this excellent website in connection with research on my Family Tree and was amazed to read in Tameside memories, two entries on life at 145 Union Street. Amazed because my maternal grandparents, Eliza and George Osborne Davies, lived just next door at 147!
George Osborne had a butcher's shop on Oldham Road, opposite the grounds of Christ Church from what I remember. My parents, Margaret (nee Davies) and Ken lived in Droylsden and I remember many happy 'sleep overs'(as they call them today) at 147 during my early school days. My Grandad always had a magic trick for me when I visited. Also when I stayed overnight, Mum used to say "Make sure David's in bed by 7 o'clock." As soon as she left the house, he turned their wall clock back an hour. So when Mum came to pick me up the following day he could say, quite truthfully, "Yes, David went to bed at 7 by that clock!" Incidentally, I am now just turned 65.
Also, when living in Droylsden, I used to count down the days (weeks?) to Wakes Week.
I certainly have vague memories of the Lomas name and hope to get in touch with them eventually.
Sadly Dad died in 1991 but my Mum. (now aged 91) is living happily at a retirement home in Ashton. My partner Elaine and i now live in Turkey and visit the UK a couple of times a year. I shall be going over for just three days next month to see her.
I, too have so many happy memories of Ashton. George Osborne's shop in the market hall, strolls across Henrietta Street to see my Dad's aunt, Marian Hatton, who lived on Alexandra Road, and the iced custard creams and jap cakes from Howarth's at the corner of Henrietta Street and Penny Meadow. Oh, and Harry Blease's opticians shop - on the corner of Cork Street and Market Street (I think) - who supplied my first pair of glasses at the age of about 10.
Mr Lomas also reminded me of the tripe shop on Henrietta Street (Yuk!), Knights fish and chip shop (Yummy!), walking through the Dingle in Stamford Park and, of course, who could forget the tipple lav at 147!
I hope to get in touch with the Lomas family but only have a three-year-old email address which I have used to try and contact them. However, others may have memories of the Union Street area in the 1950's/early 60's and it would be good to hear from you, too.
Dave and Elaine


| | |
| --- | --- |
| veiled.naiad@gmail.com | posted 19 October2011 |
---
Entertainment in Tameside
Harking back to Meg Gain's memories of buildings in Ashton reminded me of one building which nobody seemed to have mentioned; the Theatre Royal. It was located on Oldham Road almost opposite to the Empire cinema.
A visit there with my parents when I was about four years old to see "No no Nannette", was my very first experience of live theatre, and if my memory serves me right, it was rather splendid, decorated with red plush and gold leaf. I think Frank Randle was the last act to appear there.
And how many people know that the Empire cinema and the Palais de Danse which backed onto the Empire, were powered by a huge National gas and oil engine situated in the cellar of The Empire.
In 1952 I worked at the Empire as a trainee projectionist after leaving art school in Ashton library and just before going into National Service. We had a chief projectionist called Albert, and the National engine was his baby, devoting lots of his time keeping it well polished and maintained, hardly ever appearing in the projection box.
One week we were showing Bud Abbot and Lou Costello in Jack and the Beanstalk with a western second feature called The White Stallion. Reel two was showing when Albert entered the box. "What's the next reel" asked Albert, "Three, White Stallion" we replied, and saying nothing more, Albert laced up reel three in the projector and waited for the start marks to appear on the screen. In White Stallion, the cowboys were looking for the Stallion and we had reached the point when a cowboy pointed his finger and shouted "There he is" when Albert did the changeover only for tubby Lou Costello in medieval dress appeared leading a cow on a rope, a quick shut down, bring up the lights, the audience in hysterics, and Albert back to the National.
Ashton was well catered for as far as cinemas were concerned, for, beside the Empire there was The Odeon at Guide Bridge, now a catholic church, the Pavilion on Old street quite close to the Gaumont which had indoor queuing facilities where on wet evenings there was a pervading smell of wet macs. Behind the market hall more or less at the bottom of Penny Meadow was the Queens, Cinema Incidentally, Penny Meadow was not named after money, it was named after reverend John Penny who was vicar of St Michael's in the eighteenth century and who is buried upright under the floor of St Michael's vestry
The Star cinema was situated round about where Park Parade by pass is now and had the dubious pleasure of having the appendage "the bug hutch". And last but not least, the Roxy at Hurst, happy days. And finally, who learned to dance at the Premier ballroom also on Park Parade if my memory is correct. Harking back to Meg Gain's memories of buildings in Ashton reminded me of one building which nobody seemed to have mentioned; the Theatre Royal. It was located on Oldham Road almost opposite to the Empire cinema.
A visit there with my parents when I was about four years old to see "No no Nannette", was my very first experience of live theatre, and if my memory serves me right, it was rather splendid, decorated with red plush and gold leaf. I think Frank Randle was the last act to appear there.
And how many people know that the Empire cinema and the Palais de Danse which backed onto the Empire, were powered by a huge National gas and oil engine situated in the cellar of The Empire.
In 1952 I worked at the Empire as a trainee projectionist after leaving art school in Ashton library and just before going into National Service. We had a chief projectionist called Albert, and the National engine was his baby, devoting lots of his time keeping it well polished and maintained, hardly ever appearing in the projection box.
One week we were showing Bud Abbot and Lou Costello in Jack and the Beanstalk with a western second feature called The White Stallion. Reel two was showing when Albert entered the box. "What's the next reel" asked Albert, "Three, White Stallion" we replied, and saying nothing more, Albert laced up reel three in the projector and waited for the start marks to appear on the screen. In White Stallion, the cowboys were looking for the Stallion and we had reached the point when a cowboy pointed his finger and shouted "There he is" when Albert did the changeover only for tubby Lou Costello in medieval dress appeared leading a cow on a rope, a quick shut down, bring up the lights, the audience in hysterics, and Albert back to the National.
Ashton was well catered for as far as cinemas were concerned, for, beside the Empire there was The Odeon at Guide Bridge, now a catholic church, the Pavilion on Old street quite close to the Gaumont which had indoor queuing facilities where on wet evenings there was a pervading smell of wet macs. Behind the market hall more or less at the bottom of Penny Meadow was the Queens, Cinema Incidentally, Penny Meadow was not named after money, it was named after reverend John Penny who was vicar of St Michael's in the eighteenth century and who is buried upright under the floor of St Michael's vestry
The Star cinema was situated round about where Park Parade by pass is now and had the dubious pleasure of having the appendage "the bug hutch". And last but not least, the Roxy at Hurst, happy days. And finally, who learned to dance at the Premier ballroom also on Park Parade if my memory is correct.
---
Mrs Tongue's Anguish
Many people complain about the antics of today's children, well it was always so, the idea that yesterday's little tykes were sweet angelic innocents is rubbish. We were as much a nuisance as kids ever were. We were always pushing at boundaries set by our parents, trying to see what we could get away with.
One occupation that was popular, (popular with us pests, not with grown ups) was knock a door run, whereby, we little terrorists would choose a victim to plague, knock on their door and run as fast as our little legs would take us and hide until our victim had closed the door after finding that they had a phantom caller, and we would repeat the performance two or three times, thus each time became more risky than the last as the poor household got angrier.
Tiring of this, we decided to up the ante. What bright spark had the brilliant idea I don't know, I don't think he had thought it through thoroughly, but we relished the idea, which involved first "borrowing" our mother's washing lines, not easy that for it was an important article of domestic equipment.
The next part of the scheme had to be done as quietly as possible one evening. First we tied the ropes together then threaded them through the door latch handles up one side of Audley Street and tied them off at the ends, then, fastest runners in the middle of the row, we synchronised our loud rat a tats on the door knockers then stepped back to watch what happened.
As householders opened their doors they were slammed shut as other people tried to open their doors, of course, we fell about laughing as this performance went on….but not for long. One bloke had more nous than the others for he came out the back way at a run, fortunately for us we knew every entry, middin and outside lavatory to hide in, however, unfortunately our mother's missed their washing lines which resulted in a few sore bottoms.
Poor Mrs Tongue, she lived on the corner of Arundel Street and Chadwick Street and for a time was a chosen victim for our door knocking escapades. Outside her house was a lamppost with a "swan neck" at the top which the most agile of our group would climb and would be invisible from the ground as he would be above the light. A length of cotton would be tied to Mrs Tongue's door knocker, the other end held by our knocker in chief on top of the lamppost who would pull the cotton to activate the door knocker. Naturally, when Mrs Tongue opened the door, there was eerily, no one there.
Mrs Tongue decided to wait behind the door, open it quickly and catch the little herbert who was at the root of this trouble. Still nobody there, even when she came round the back way, and even more weird, the knocker activated whilst she was outside, this final knock was done strongly to break the cotton thus continuing the "MYSTERY OF THE PHANTOM KNOCKER".
Unfortunately that was not the end of Mrs Tongues troubles, such as the time we blew up her dustbin!.
I discovered that uncle John who lived on Chadwick Street, had one or two ex army thunderflashes, I've no idea how he got them, but I thought it unfair that he had them and I didn't, so I "borrowed". a couple. I couldn't wait to show my pals these great "fireworks", so we propped one up with a brick on top of a backless chair and lit the fuse and stood back a fair distance, the ensuing explosion accompanied by a bright flash of light, shattered the brick which peppered a nearby pigbin and caused the chair to collapse. Great "fireworks".
It was our boffin, Donald Heyes who I blame, for it was he who said that he could make a long fuse which meant we could be a bit further from the action, or reaction if we had to run for it. So, true to his word, Donald, or Straw as we nicknamed him, made the long fuse. The question was, what were we going to do with it now, we only had one "firework" left so didn't want to waste it. It was a joint decision that Mrs Tongue who hated kids (and no wonder) would get the dubious pleasure of observing how well Straw's long fuse worked.
We crept into Mrs Tongue's back yard and deposited the "firework" in her dustbin threading the fuse under the back gate and up the back entry, I can't remember who had the honour of lighting the fuse, but we waited with bated breath as the fuse fizzled its way down the entry and under the gate. A thrill of excitement ran through us as there was a moment of silence after the fuse disappeared, then an almighty bang as the dustbin lid spun high above the gate followed by the bin's contents, but disapointedly, no Mrs Tongue. Fortunately, she must have been out shopping otherwise she could have suffered a heart attack. Curiosity got the better of us, we had to see what the effects of our terror raid were, so we edged open the backgate a little to discover the yard full of rubbish and a dustbin split down the seam.
The policeman administered the heavy clout round the earhole then left us to the tender mercies of our parents. It seemed ages that we were grounded, but never again did we do anything awful like that again. Lesson learned.
---
More of Ken William's Memories
I mentioned in my last epistle the temperance bar at the top of Cockbrook, well, I've dragged up the name from the depths of what I call my mind; Gordons, and dragged up with it was the reminder of the barbers shop named Jaggers. Oh boy, Jagger by name, Jagger by nature, I wonder if his scissors were ever sharpened, he might as well have used pliars the way he yanked tufts of hair out.
I also admitted to being a chorister at St Gabriels. One year some demented soul put me forward as the soloist at the Sunday School concert one Christmas. I was to sing "Poor old Joe", a sort of spiritual, and I sat behind the curtain which had been hung up as a backcloth, full of apprehension awaiting my big moment to arrive.
I started off ok, but as I reached the second chorus my beautiful boy soprano voice turned into a strangled croak, yup, my voice had broken, and never again had I a singing voice.
Nowadays people go either to the corner shop or supermarket to buy their milk, fewer people are having their milk delivered. But I remember farmer Emmet whos farm was at the top of Thornfield Avenue, delivering milk in a huge churn on wheels which he manually pushed around the streets (not easy on cobbles). Customers would place a jug covered with a lace doyley with beads round the edge on the doorstep into which farmer Emmet would pour a scoop of milk.
Monday = washday. Why Monday was always washday I don't, know, but it was always a major operation. First of all the items to be washed were put into the sett pot to boil, this was a brick built structure containing a copper container and stood in the corner of the scullery. A fire was lit under the sett pot and almost from that moment vision was almost obliterated as the room filled with steam.
Once boiled the washing was recovered from the sett pot with a pair of wooden tongues and placed in the first galvanised wash tub where mother would vigorously scrub each item with soap on a scrubbing board which was a flat board with horizontal ribs on the face of it.
Next came the second washtub which was for rinsing. To achieve this Mum used a posser, (oh how the heck am I going to describe this). In Mum's case, it was a broom handle with an upturned copper basin affair with little holes all round the outside. Usually a posser had three short wooden legs ay the base, and the purpose of the posser was to bash the dickens out of the laundry until it was soapless.
And finally the Mangle. This was a manually operated machine which squeezed the water out of the washing by rotating a handle to turn a pair of rollers before hanging out the washing on a washing line outdoors in the back entry. If the weather was inclement, the washing was hung on a frame called the maiden or clothes horse in front of the coal fire, unfortunately, if the chimney 'sweeled' or blew back the smoke from the fire, the washing was soiled and needed rewashing.
Now I've tired myself out with the thoughts of the washing I'll have a rest.
Ken Williams


| | |
| --- | --- |
| kenandsandra@talktalk.net or telephone 0161 432 1184 | posted 4 March 2011 |
---
More of Ken William's Memories
As previously stated, we moved to Cockbrook to 8 Edward Street, and like Doris Prince, I attended St Gabriel's primary school. The head mistress was Mrs Brown, a very attractive lady in my juvenile mind.
The teaching area was divided by a big heavy screen which, when morning prayers had taken place, was dragged protestingly across the room.
Another connection with St Gabriel's which I was involved with, was as a chorister at St Gabriel's church, or the tin church as it was called due to the corrugated cladding on the outside walls. This was eventually brick clad. On a fairly recent visit to the church I noticed that the choir stalls had been removed. (was the choir that awful?)
The church organ was powered by a kind of bellows apparatus which involved constant pumping on a large lever by a choirboy. On one occasion I recall, the organ "engineer" fell asleep during a rather lengthy and worthy sermon, and what should have been a rousing and uplifting anthem after the sermon became a wheezing whimper, I don't recall the guilty chorister being employed as the bellows master again, not that he was sorry to have been barred from such high office, it wasn't an easy job. It did cross our fertile minds that was a good way of getting out of the duty, but the establishment was ahead of us as was pointed out at the after service "talk".
I have been trying to remember some of the shops in that part of Cockbrook. On Stalybridge Road, across from Stamford Park entrance was Morten's the bakers, which was in close proximity to the cast iron tram shelter. At the bottom of Arundel Street facing onto Stalybridge Road was Nightingales the greengrocers, and on the other corner across from Nightingales was Carrs the butchers. On the corner of Edward street was Kirkpatricks the Grocer, but for the life of me I can't remember the name Of the bakery further up Arundel Street.
Who remembers the temperance bar at the top of Cockbrook where you could purchase home made Vimto lollies or a glass of dandelion and burdock, or as we imps would pronounce it, burrrdock which related to its gassy properties. Other shops I remember were Powells the chemists, Jones the newsagents, and we had two chippies in Cockbrook, One facing the bottom of Arundel Street, and the other at the top of Cockbrook next door to the clog makers.
Harking back to St Gabriel's school for a moment. On top of the school roof was a bell which we had never heard rung, and Jack Westhead said that he was going to climb up there a give the bell a good ring. Having successly achieved this, he slid down the roof onto the middin where the dustbins were kept, and as he leapt off this, the middin door opened and poor Jack fell straddling this. As his eyes glazed over and he sort of peeled off, we, little fiends that we were, thought it was hilarious and fell about laughing whilst poor Jack lay in agony. He didn't seem to suffer any permanent injury for he fathered a family in later years!
More memories to come if you want 'em,ta. Ken (Wiggie) Williams.
Ken Williams


| | |
| --- | --- |
| kenandsandra@talktalk.net or telephone 0161 432 1184 | posted 1 March 2011 |
---
More of Ken William's Memories
Previously I wrote about my mother's wool and handicraft shop at 77 Warrington street in the period just before the war, well I have a couple of further things to write about.
I used to enjoy the trips into Manchester on the tram when Mum used to go to the various wholesalers to replenish her stocks. One in particular was Fred Aldous on Shudehill, and in the window was an animated showcard which depicted "Hickory Dickory Dock" and I used to get really excited when the little mouse appeared to run around the clock face. Fred Aldous is still going, well perhaps Fred himself isn't, but his shop is although not in the same place.
I must admit, I was a bit of a sickly child, and I once had to spend quite a bit of time in my cot, but I found that by rocking the cot I could make it traverse around the room upstairs. Goodness knows what Mum's customers thought was going on as I thundered around the bedroom, however, my dad made me feel better, I awoke to find that he had repainted all my toy motor cars and laid them on a table by my cot. Even today I can, in my mind smell that enamel paint.
Another thrill was Ashton Wakes Week; of course, we lived almost on top of the market ground so all the lights, music and the crowds appeared to be put on just for me. In later years when I had reached my teens I still went to the wakes with my friends, but it wasn't the rides that attracted me, it was the black pea soup tent which drew me like a magnet, a bowlful for threepence, lovely grub. Where on earth can you buy black peas nowadays?
Even before the war some of the housing in Ashton was being cleared, I remember property on Wellington street being demolished, and this became an adventure ground for the local children. One building stood in isolation minus doors and windows and some mischievous spark put round that it was haunted, so naturally we brave souls threw bricks through the gaping holes to frighten the ghosts when something white flew across the gaps in the building, probably a pigeon, and the cry of GHOST rang out and we all ran as fast as we could, but clumsy me had to trip and cut my head open, so that year I had my holiday at Fleetwood with a whopping big plaster on my forehead.
In the last memoirs I mentioned that we moved to Edward street in Cockbrook just before the war, So any further memories will date from then.
Ken Williams


| | |
| --- | --- |
| kenandsandra@talktalk.net or telephone 0161 432 1184 | posted 28 February 2011 |
---
A Selection of Ken William's Memories
I was born in the lake hospital in 1935, and for a very short time my parents and myself lived with my grandparents at 34 Foundry Street, Duckinfield before moving for a short while to Ladbroke Road. But my earliest memories date from when my Mum had a wool and handicraft shop at 77 Warrington street. I used to sit in my little green wickerwork chair beside the two steps up to the shop.
Across the street was Clarkes baby linen shop which had a rounded fascia board round which were coloured light bulbs. I also remember some of the shops in the area around Warrington Street, such as Kilners grocery shop on the corner of Katherine street and Warrington street which had a sloping scrubbed floor and a chair with a Panshine advert on the back. Then there was the shop on Warrington Street where you would take your accumulator, (which was a glass battery) to be charged, but the shop which fascinated me was the clock and watch repairers. They had a clock in the window with a pendulum in the shape of a little girl on a swing. Howards on Warrington street was in the next row to my mum's shop. Mr Howard was a baker and his son was my friend. And who, of our generation, remembers a spinster lady called Dorothy Kitchen, Auntie Dorothy to lots of children, her father had a greengrocers shop on the corner of Jermyn street and Warrington street. I used to go in there, and for some reason or other, hang the fire tongs on the knob of the dining table drawer. I just about remember the ladies bending over my pram asking if they could have one of my curls, I must have given them all away for I don't have them any more!
All this was just before the war when we moved to Cockbrook to 8 Edward street where my grandma Lived at number 15 and uncle Jack and auntie Ginny at number 21, Incidentally, the film actor Ronald Frazer also lived on Edward street just a bit further up than us. I have many happy memories of Ashton, and if anyone who knows me wants to communicate.
Ken Williams


| | |
| --- | --- |
| kenandsandra@talktalk.net or telephone 0161 432 1184 | posted 27 February 2011 |
---
Here are a few more of my memories in A-U-L.
I was a train bearer for the May Queen at St Marys Church. I think that the year would have been around 1944. I can still remember the names of the other children who were in attendance, these were as follows. The May Queen was Marie Dillon; the Cushion bearer for the crown of flowers for our Ladies Statue in St Mary's church was Gerard Hone. He walked in front of the May Queen. There were two page boys that carried the May Queen's train, one on each corner at the end of the train to keep it up off the floor. I was one and the other one was either Terence Leckey or Peter Cooper. I am not really sure about this last point.
I have a photo of me in the page boy suit, that I wore at the time. I estimate that I look about 6 years old. The suit was made from yellow satin and I also wore white crocheted gloves and white satin slippers and did I feel a proper charlie. The photograph was taken in a studio in Ashton possibly on Stamford street or on Old street. My Mam had the photo hand coloured by a lady that lived on Union street.
I also recall that we were in the Whitsunday walks in the same year.
Best clothes for Whitsuntide.
I always remember one year my Mam was over the moon as she had plenty of money to clothe us all without going into debt. This came about through a competition the she liked to enter in one of the Sunday papers. This was a fashion competion where photos of items of clothing were shown and you had to select about eight items in the correct order. Mam would let us kids select a line to be entered. The particular competion in question was for ladies shoes and would you believe it, it was my line that was the winner. The winnings amounted to £57.13 shillings and ten pence.
Another memory of Ashton was the sound of the midday hooter from the Brushes factory which was just off Turner Lane. I think that it sounded twice, once at 12 o clock midday for the start of lunch time and again at 1 o clock to start work again. I believe that a lot of people living and working in the area used it as a time signal for midday
There were at one time some small cotton mills in the town center. I think that they used to just process the raw cotton ready for others to use. As children particulary in winter we used to collect the stray clumps of cotton from around the mills when the big bales of cotton were being delivered. We used this as fuel for winter warmers. This was a tin can with holes punched in around the sides. The can was filled half full with the lumps of cotton then lit with a match. We would then fill the can with more cotton and put the lid down. A piece of string was tied to the can so that it could be swung to and fro. The holes in the can allowed air into it to keep the cotton burning and your hands nice and warm.
Regards Vin.


| | |
| --- | --- |
| lomas449@btinternet.com | posted 29 October 2008 |
---
145 Union Street, Ashton-under-Lyne
My family lived at 145 Union street Ashton-u-Lyne during the war years and beyond. There were six of us in the family Mam and Dad and four children all boys. I was the youngest born in 1938. my brother Edward was born in 1936. Ronald was born in 1934 and Sidney the eldest was born in 1929.
I was educated at St Mary's RC School on Newton Street. I attended this school from the age of 4 in 1942 until leaving school aged 15 in 1953. The family also attended St Mary's RC Church on Wellington Road. This Church was demolished in 2002 I believe The site where the church was is still a vacant lot. Yorkshire Street runs down the side to Wellington Road and at the rear is West Street.
Some of the memories of my early life in Ashton are as follows.
Dad being in the army at Dunkirk in 1940 but as I was only two then, this time is very vague, but I do remember Dad coming home on leave with his rough wiskery chin and his rough uniform and leaving his rifle propped up in a corner of the kitchen.
After Dunkirk Dad being away in the Army as a prisoner of war guard on the Isle of Man and in Edinburgh. He sometimes brought some wooden toys home that the prisoners had made.
The sound of the air raid warnings and the all clear siren and sometimes sheltering in the cellar with the Ashford family who lived opposite on the corner of Union street and Melville Street.
Seeing my Mam at Denton Sheet Metal working on the tailplane of what was rumoured to be a Spitfire. (We werent supposed to know) This factory was on Cavendish street close to the Cavendish Mill. Mam used to bring home pop rivets which had accidentally found their way into the pockets of her pinny. My brother Eddy and I used to call these Tom Thumb Swords because of the shape.
The black leaded fire place range in the house at 145
The rattling of the two cockle shells in the kettle when it boiled on the fire.
Mam raking out the ash from the ashpit under the oven anf the fireplace
Using the metal shelf plate from the oven wrapped in a towel to warm the beds.
The copper clothes boiler in the corner of the kitchen.
The tippler lavvy at the bottom of the yard at 145 and a tin bath to bath in.
Sleeping on a lumpy flock mattress with overcoats for blankets.
Mams potato pie made in a large brown deep eathenware dish with the crust hanging all around the sides. The same dish was also sometimes used for taterash or hotpot.
Mams potato cakes hot from the oven.
Tins of dried egg.
Cod liver oil and malt. The cod liver oil was not very nice but was made palatable if followed by a large spoonfull of malt.
Other over the counter medicines that I remember are "Doctor Williams pink pills for pale poorly people" this was apparently a cure all medicine ??
"Fenning little healers" These were tiny little pills which were sold in 3's in a small twist of paper. I do not recall what these were for. probably for sore throats.
"Fennings cooling powders" These were for fevers and were packed in a small sheet of paper folded to safely hold the powder. I know now that this was known as an apothecary pack.
Then of course there were the dreaded "Beechams pills" to make you go to the Lavvy. these were sold in 3's in a twist of paper
I still remember the rhyme we used to say with these. This goes as follows but you must use a deep sinister voice for the right effect.
Down in the lavatory six foot deep
Three little turds lay fast asleep
Shh! shh! let them rest
The beecham pills have done their best.

Mam using various ways to threaten us with if we were being naughty. The phrase "Just wait until your Dad gets home" initially springs to mind. Or dose of "Fennings fever cure". This was very bitter and vile tasting liquid which was yellow in colour and reminded us of wee. Or the use of the "Enema device" which looked like an instrument of torture
As a last resort was the use of Dads cat 'o' nine tails which was hung by the side of the fire place range in the house. I must say here that I do not ever remember it being used, but Dad did reach for it a couple of time only to be stopped my Mam.
The yellow smogs so thick you could taste them if you were daft enough to go out in them which we always wanted to do but Mam used to keep us in when these descended.
Collecting our bags coke from the Gas Works on Oldham Road with a two wheel cart hired from a Mr Frost in Blandford Street I think. The best carts were always aquired by the older boys who did not believe that there was ever such a thing as a queue. Then pushing the worst cart in the world (with square wheels which we always seemed to get) loaded with bags of coke across Wellington road and through the West Street pedestrian tunnel under the railway lines leading to Turner Lane then across Turner Lane to the bottom end of Union Street along this then crossing Alexandra Road to the "steep" cobbled section of Union Street and to home at 145. It seems to me now that this was always done in freezing weather, heavy snow and with thick ice on the Union street cobbles and as I was only about four or five years old trying to help, wearing clogs with the ice building on the soles to form "gloggybogs" as me and my brother Eddy used to say.
Looking through the front window of 145 watching cattle and sheep being herded up Union Street to make their way across Henrietta Street to the Union Street slaughter house. I think that these premises subsequently became a Car service Garage.
The fish and chip shop on the corner of Boodle Street and Turner Lane when fish and chips were cheap. I am sure I can remember a pennyworth of chips or is this just wishfull thinking ? The fish that we had was white salmon as this was the only fish my Mam would eat. It was the nicest fish anyway.
The tripe shop on the corner of Camp Street and Henrietta Street. My Dads favourite dishes were tripe and vinegar, fried slut or elder and jellied pigs trotters Ugh!
Visiting the School Clinic which I think was on Water Street very close to the Gas works to have our hair checked by the nit nurse and other childhood ailments as required.
Alec Talco's ice cream works at the bottom end of Union Street. He did a smashing range of small ice lollies. The best flavours were vanilla, lime and strawberry which are the most memorable, I think that they cost only about 2 old pence.
Another famous ice lolly maker in the town was at a shop called Joe's on Katherine Street near the junction of Warrington Street. Joe's Vimto Lolly's were famous. The large size looked as though they used a large dome shaped cup to form them. I have the feeling that Joes was primarily a fish and chip. Can anyone help with this ?
There were two fish and chip shops on Warrington Street the best one was Knights which was on the left hand side if you are facing towards Katherine Street. The fish, chips and the specials and mushy peas were good enough to kill for. The other shop which was opposite Knights, was called Sewells. The quality of the fish and chips left a lot to be desired. The batter on the fish was always seemed to be a bit undercooked as was the fish. We only used this shop when Knights was shut.
Collecting the glass accumalators for Dads radio set from a small electrical shop on Warrington Street. The accumalators had to be recharged about every couple of weeks or so to keep the radio working. Listening to Dick Barton Special Agent with our ears glued to the set when the accumalator was running down.
Ha'penny sticks of spanish with Barrets kaligh
"David Conn" the butcher in Ashton market hall. His stall was the second or third stall along the right hand wall from the corner entrance opposite the junction of Henrietta Street/Penny Meadow ect. As I was the youngest I always sent out to the shops if Mam wanted anything from down Ashton
I remember that inside the Market Hall, the floor was not flat or even but had slopes of various degrees between the stall "Islands" and then flattening off higher into the center of the hall.
In the central area of the hall was a newsagents and stationers. I think that this was called Pickles. Here you could buy comics (when you had any money) the comics I remember were, The Adventure, The Hotspur, The Rover, The Wizard, The Eagle, Radio Fun and Film Fun. My favourites were The Wizard and The Eagle. The two stories that I liked was "Wilson" who was a super athelete and Limp along Leslie. This story was about a young footballer that had a club foot and ran with a limp but was a super star goal scorerer. I dont suppose that this kind or story would be allowed in this awfull pc age.
Pickles if thats what it was called, was also the place where us Locospotters could get the Ian Allen locomotive books. These were in essence a series of small handbooks containing the lists of all the engines used by the various railway companies in the uk at that time. The books listings were used as check lists to show which of the engines you had seen.
The company that served our region was the London Midland Scottish Railway or LMS as we called it for short. It was always the main interest of the Locospotters to see named engines. The main named engines that used the line from Manchester and through Charlestown station in Ashton were the Scot class, the Patriot class and the Jubilee class. These were good times for a 10 -12 year old although we never got any further that Manchester Victoria and Exchange Station from Ashton or Manchester London Road Station from Guide bridge. Other boys would go much farther affield to do their spotting.
There was another newagents in the Market hall but I cannot remember the name. This stall was along the left hand wall from the corner entrance opposite the junction of Henrietta Street/Penny Meadow ect. I seem to recall that they also had a shop on Cowhill Lane around the left hand corner of Camp Street ??
Playing on the "Ground" This was the centre of our lives for many years. The "Ground" was a piece of sloping and quite uneven spare ground with several short cut paths running across it from various directions. It was openly surrounded by Union Street, Alexandra Road and Turner Lane before Charlestown Station bridge and then enclosed by the railway wall boundry that went back up to the side of the houses on Zetland Street/Albermarle Street which then came back again to rejoin Union Street. The height of the wall which is still there, varies from about twenty feet plus at the Turner Lane railway bridge to about four foot six at the lowest point just behind and along side of the houses on Zetland Street. The wall was about 20 inches wide which was ideal for the locospotters to sit on while waiting for the trains to arrive. in the station.
In particular was the five oclock express from Manchester each day.This was usually a double header express ie pulled by two engines. You could hear the express in the distance thundering by Ashton Moss to the White bridge on Richmond Street, then a few minutes later coming into view spewing white steam and smoke as it came belting under the Oldham Road bridge and then past the Ashton Signal box. Wow I can see it now !! There was always great excitement when we saw that the express was pulled by two named engines.
If we were unlucky to be in doors at 145 at this time the whole house used to shake as the express went though the station, Union Street was after all only two streets away from the railway line
The "Ground" did have a Painters pen on it at one time. This was situated fairly centrally with the railway wall enclosing it along one side. When it fell into disuse it made a smashing fort for cowboys and indians and nobody would chase you off.
In 1945 the family was put into isolation at 145 Union Street while we were all tested for Diptheria. My Mam was diagnosed as positive, to be followed by me a couple of days later and my brother Ron two days after me. All three of us were sent to an isolation hospital in Hyde. My Mam was in for four weeks, Ron was in for five weeks and I was in for six weeks. I was diagnosed as being the germ carrier. The worst thing was having some vile tasting medicine every day, with regular weekly throat swabs to see if we were clear of the virus.
Catching the "Piggy" bus from St Michaels Square to Stamford Park. This was a green single decker bus.
Walking through the Dingle in Stamford Park and around the the boating lake.
My eldest brother Sid was a Gardner at Stamford Park and later on as Gardner at ICI in Newton, Hyde.
My brother Eddy worked at Ogden Hartleys Hardware Shop on Penny Meadow, this was the third shop up on the left hand side from the corner of Cowhill Lane. Eddy trained here as a Locksmith.
My first job in 1953 was as a trainee sugar boiler but no not at Podmores in Ashton but at G.W.Laws at 135a Union street. This was a small 3 story factory stituated down the ginnel by the side of 135 Union street. I was taught to make a large range of boiled sweets which were sold at Tommyfield market Hall in Oldham, on the market ground at Bury and in the Market Hall at Fleetwood. I worked there for six years before my National Service and for some time after.
Mr Etchels the shoe mender on Warrington Street almost opposite the Prince of Orange.
The pet shop/garden shop on Warrington Street that sold rock and flours of sulpher for fumigation green house "and for other illegal uses"
The old horologist clock mender Warrington Street with windows so mucky you couldn't see inside.
The pub on Katherine Street with the stone horses head at the top of the yard archway. this was just lower down from the corner of Warrington street
My first job interview for a trainee bookbinder at the Reporter Office, which I did not get.
Going for walks along the various canals around Ashton
Riding the 3/4 mile on our bikes down Alt Lane on Lees Load down to Bardsley Brew.
Walking to Hartshead pike from the Coalpit Hills on Lees Road/Smallshaw Lane up to the Knott Hill reservoir.
St Christophers new church on Lees Road where my wife Jean and I were married in 1957
The Youth club at St Christopers Church where we used to Jive
Walking across the moors from Brushes reservoir over to the deepcutting in Stalybridge. Viewed from high on the hills at the side of the reservoir it was shaped like a womans leg. This then became know in our simple minds as "The Womans Leg".
Roller skating in the pally
Learning to dance in 1954 at Pillings dancing school. This was above a car showroom on Katherine street.
I moved away from Ashton in 1963 with my Wife and family and we have lived in Essex since then. My son and his family live close by in the village where we live. My daughter lives in Hampshire with her partner. My wife and I have still retained our Lancashire accents.
All my immediate family have now passed away, Dad in 1986, Mam in 1993, Eldest Brother Sid in 1976. Brother Ron in November 2007 and Brother Eddy in January 2008. To lose two brothers so close together was a very sad time.
So I am the only one left now. We do have of course the families of Sid, Ron and Eddy who all still live in the Ashton and Stalybridge area.
It seems as if I could go on forever with these memories, but I will stop for now.
I do hope that all these memories are found to be of interest to you and your readers.
Thank You Vin for all these memories.


| | |
| --- | --- |
| lomas449@btinternet.com | posted 30 September 2008 |
---
Hi, Barry Lewis from Sydney, Australia. Expat Hyde boy, hoping you will publish this in your memories section.


Childhood Heroes


As I sit here on my neddy with my guns strapped to my hips,
Eyes in half closed concentration and a sneer upon my lips,
I'm the toughest dude in Newton with a draw that's oh so slick,
A sheriff's star and black hat which says "Blackpool - kiss me quick".

I know how to win the west, I know that I'm 'the man',
I have skin that's tough as rawhide, cos my hero's Desperate Dan,
I like Cisco Kid and Pancho, Kit Carson and his kin,
Roy Rogers and horse trigger, and good old Rin-tin-tin.

The Lone Ranger and Tonto, Cheyenne Bodie, Texas Jack,
The Rifleman and Maverick, Hopalong Cassidy dressed in black,
These guys are all my heroes but none of them compare,
To the toughest dude in Newton with the short red curly hair.

He spies a lone red injun, chicken feathers on his head,
Wrapped around his shoulders is a blanket from his bed,
Our hero shouts out "Yippee" and kicks Neddy in the guts,
Head down he slaps his horses rump and heels him in the nuts.

He builds up speed towards his foe, hair flowing in the breeze,
His horsemanship outstanding, controlling with his knees,
The sneaky injun draws a gun and pulls off a deadly round,
Our hero holds his tummy and falls towards the ground.

Hold on, thinks he, there's girls in sight I must make this look grand,
He completes a stylish somersault and prepares himself to land,
Whilst trying to impress the girls with fetes of daring do,
He fails to spot the water and the dollops of dog poo.

Head first into this mire he falls, his Knightly visage stained,
With water dripping from his hat and his badge in poo - ordained,
His battle for the west is gone, he has no chance of winning,
His Mum's now on the warpath and all those girls are grinning.

He flies into the sunset as his little legs propel,
His Mum keeps him at arms length just to minimise the smell,
Our hero now has done his dash, a hiding place to seek,
But Mum says "Righto Desperate Dan - no T.V for a week".

Life's hard being a hero, it aint all that much fun,
My sisters laughing her head off and my Brother stole my gun,
I think cowboys are all stupid, chasing injuns aint much good,
Tomorrow I'll be someone else, Oh, I know...Robin Hood ! 

| | |
| --- | --- |
| barrylewis7@dodo.com.au | 5th February 2005 |
---
Memories From Oz


As I sit here on a red hot day,
Under peerless azure skies,
I watch the cockatoos seek shade,
And I brush away the flies.

I see the harbour and its bridge,
The opera house, world famous all,
Paradise found, after searching the earth,
I love it here, life is a ball.

My mind sometimes wanders as I sit here so warm,
To a life that I led long ago,
To the green, green hills of a small cotton town,
Wakes week and Werneth Low.

St Mary's school and Flowery Field,
Hyde market each Saturday morn,
Snowmen and slippery slides made of ice,
And the sound of the ice cream vans horn.

The ABC minors, a film club for kids,
The 'stannies' and hippodrome too,
Cough candy and vimto, victory v,
Then off home by Commercial Brew.

Of papa Jess Lewis in Talbot road,
In his 'chippy', old men in cloth caps,
Selling pudding and peas, fish and chips, greasy pies,
And the good old 'six penneth of scraps".

November the 5th, oh boy, what a day,
With Guy Fawkes dressed up in a trolley,
"Penny for the guy" was the primeval cry,
Easy money for fireworks and lollies.

Parkin cake, treacle toffee and charcoaled spuds,
Bonfire night with its bangers and rockets,
With great 'oh's" and "ah's" as we looked to the stars,
Round the fire with your hands in your pockets.

Wakes week with rides, carousel wheels and slides,
Coconuts, goldfish and noise,
Candy floss, toffee apples, a shilling from mum,
Then it's off to explore with the boys.

Whit Sunday was great, dressed up to the nines,
New clothes, new shoes, quite a nob,
Then off to the relatives "oh he looks nice",
All and sunder then give him two bob.

Walks down Matley lane on a nice Sunday morn,
Hunting frogspawn, sticklebacks and taddies,
Plenty of parkland for tearaway boys,
Playing cowboys - both goodies and baddies.

Delivering the papers on cold winter days,
Heavy bag, on my bike, it's the pits,
But that doesn't matter when Christmas time comes,
Cos that's when I get my tips.

Jack Cryer's my boss and he gets quite cross,
As I flick through the papers pages,
"You missed Mrs Clegg, that's the third time this week,
I'll dock it from your wages".

Tying those knots as a third Newton scout,
Proudly wearing both uniform and waddle,
I dibbed and I dubbed, I dubbed and I dibbed,
Great life, it was all a real doddle.

Hyde public baths where I learned to swim,
The attendants oh so mean,
"Out you come your time is up",
"Don't queue at the Brylcream machine".

Then Hyde lads club, what a great place,
Table tennis, sport and football,
Wrestling boxing, darts tiddlywinks,
And basketball in the great hall.

It's not a big place this wee town of Hyde,
Full of mills, terraced houses, chimney stacks,
But for a wee lad in shorts and long socks,
Twas a place which my memories go back.

The games after school in the street with the lads,
Cricket, roller skating, hide and seek,
Then out would come mother "come on, time for bed",
But these games would go on for a week.

Those halcyon days in Hallbottom Lane,
Playing footy and chasing the lasses,
Gave me a start like no other for sure.
Life's lessons that aren't taught in classes,

I have travelled the world since those faraway days,
Yet I can still say with some pride,
When asked by an Aussie "where are you from"?
I tell them "a great place called Hyde".
1998

| | |
| --- | --- |
| barrylewis7@dodo.com.au | 5th February 2005 |
---
St John's Ambulance Brigade - Dukinfield
When I was in St John's Ambulance Brigade, we did fund raising events, we had a wheel chair push around Dukinfield, Irene and I were the refreshment girls, the boys and girls who did the push had a very good day, doing wheelies with their pretend patients. We also did a stretcher carry round Dukinfield, do not think they lost any patients again Irene and I were refreshment girls. We also put on a show at headquarters all the members had parts. Irene and I decided to do the two Ashton Mashers as we were very shy not having been in front of an audience before we asked Mr Lee to join in and we were the three Ashton Mashers, we dressed up in men's clothes and I made false moustaches from blank fringing.The only drawback was that we did not see the rest of the show . In another show Pauline and I did "There's a Hole in My Bucket, Dear Liza", (Harry Belafonte sang it in a show) we did all the actions. Pauline was dressed as Harry I was Liza , we did all the actions. Some of the audience were in tears do not know if it was because we were good or if they were tears of sympathy.
When on duty at the tour of Tameside , Irene and I met Jimmy Saville as he was then, Irene massaged his legs before the race do not know how he finished. We saw same runners year after year some of them recognized us and would say hello in passing, one lady called who always took part came last everytime - had to admire her courage for taking part, she did try. At the Tameside Festival we met the late Barbara Castle and showed her how to do the kiss of life. At the Hattersley Carnival, I was taking a lady in a wheelchair to the ladies room and got her chair stuck in the door, I had to get a gentleman to come and rescue her . We have some very happy memories of times on duty. Taking the disabled on outings to seaside resorts, they were a very happy crowd of people and enjoyed the day out . One lady was taken ill when we were at Morecambe, we could not bring her round and had to call an ambulance, finished at Lancaster Hospital. I think they must have thought they were in for a very busy night when the coach full of people arrived at the Hospital following the ambulance, the lady recovered and was back home in a few days.


| | |
| --- | --- |
| Jean Wykes | 12th March 2005 |
---
Dukinfield Carnival circa 1951
All competitors met on Blocksages. It was a lovely sunny day with country dancers, jaz bands etc.
We went down to see them arrive at Clarendon Fields. As the parade passed by I said to my mum, "That boy looks like our Geoffrey". We looked again, "It is our Geoffrey". We called his name and waved, but there was no response other than a cheeky grin. At the playing fields we watched all the competitors etc. Geoffrey was with a dancing troupe and a lovely day was had by all.
It seems that Geoffrey was watching the competitors getting ready, when one was suddenly taken ill. The organisers were asking if anyone could dance and Geoffrey had volunteered, and the reason he couldn't let on to us was that he was, at the time, being judged going onto the playing fields.


| | |
| --- | --- |
| Jean Wykes | 22nd Janaury 2005 |
---
Growing up in Waterloo and Taunton Road
Reading with a chuckle at some of the memories on your web page, it brought back many nostalgic memories of my own.
I was born at 10 Wilshaw Grove, Waterloo. I started school at Waterloo Council School under the watchful eye of Mr Beard, the headmaster. I remember well the snowball fights with the Waterloo Christ Church bull dogs. Some of those snowballs were enough to take your head off when the snow got slushy!
Dad bought a shop, which is still there, at 49 Howard Street when I was around six or seven. His name was Percy Marsh and at that time he drove a van for Henry Moons in Aston and Mum ran the shop. That was before any of the houses were built on the council estate. I can remember the very first house going up there. Mr and Mrs Voss were the very first people to live on that estate.
One of my chuckles, reading the articles, was the one about the long drop lavatories which were pretty scary for a kid who had lived in a house with a full bathroom to one with an outside loo. Who knew what was lurking down there waiting to leap up and pull you down never to be seen again. Bathtime was in a zinc bath tub in front of the fire, and me being the youngest, I was always the last one in, with all that grunge floating on top!
I started school at 11 at West End SM and played for the school soccer team with visions of playing for England some day! Swiming was also a passion of mine and I spent countless hours at the baths as we called it. Anybody remember Mr Clap, the dreaded PE teacher at West End? One of his favorite things was to take any kids he caught fighting or causing problems, into the gym to teach them a lesson with the boxing gloves. Unfortunately, he picked on a friend of mine called Brian Harrop, Brian proceded to teach him a lesson, and promply flattened him much to the delight of half the school cheering him on through the windows around the Gym.
Finally, we moved to Taunton Road, right across from the old Christ Church school, it was from there that I started my apprenticeship in auto body repairs or panel beating as it was called then at William Monks Ltd on Oldham Road. What luxury it was there on Taunton Road, we actually had a proper bathroom with hot and cold running water.
I joined the Albion Tennis Club on Taunton Road which was at the back of the Gardeners Arms, many happy hours spent there. It became our local of course, all we had to do was go from the club, through the bowling green and into the pub. We couldn't take our girlfriends in there though because most of their fathers frequented that pub too.
I met my first wife at one of the tennis club dances, and we were eventually married at Christ Church in October of 1964, after a few years of trials and tribulations. we decided to move to Canada in September of 1973. More trials and tribulations lead to a divorce and after a few years I met and married my second wife Ruby. We now live close to Vancouver, British Columbia, Canada.
If any of your readers know any of the members of the Albion Tennis Club they could e-mail me at canadabears@telus.net. In particular Geoff Lindley, who was a dear friend, the best man at my wedding, and who I lost contact with after moving to Canada.
That is a brief history of my early years in Ashton, many more memories, come flooding back, like roller skating at the Pally, Belle Vue speedway, Namer spotting (train spotting) etc etc.


| | |
| --- | --- |
| Jim Marsh:canadabears@telus.net | 7th November 2004 |
---
Snowball Fights in Waterloo (continued)
Just came across, by accident, the account of the snowball feuds which have gone on year after year between the 'Council Rats' and the 'Bull Dogs. I was a Bull Dog having been a pupil at Waterloo Christ Church (now Canon Burrows) from around the year 1937 until I left at the age of l2. As the pupils went to school until the age of 14 then some of the boys were pretty hefter throwers. I remember standing in the snow cheering our side on. Unfortunately, the snowballing and fighting often went on when school was finished and anyone who had to cross the 'boundary' to walk up to, say Oaken Clough, from the council school might have felt quite intimidated. It was interesting to hear of the continuation of this winter pastime well into the 1950's. In 1954 my husband and I lived on Taunton Road and so our son David became a pupil at the council school around 1959 and became a 'Council Rat'. Miss. Fielding was the head teacher of the Infant Dept. Mr. Beard, I believe, in the Juniors.
Eric and I moved to New Zealand four years ago and so have left the severe wintry behind us, although South Island can experience a good deal of snow in the shorter winter here. Having found the web site I will continue to "look in" occasionally and hope to find more reminiscences from past Ashton under lyne.
P.S. I lived on Oldham Road where my father had a butchers shop. The property was at the bottom of Downshaw Road nearby to the Methodist Church.


| | |
| --- | --- |
| Winifred Rippingham (nee Slater) | 21st October 2004 |
---
Some reminiscences from Ron Cooper
Hi, thanks for the memories of the 50/60s
The person who remembers Manny Showman's the gents tailor on Penny Meadow, must remember the last shop looking across to the market hall and across to the Bowling Green Pub, I was my Fathers shop also a gents tailors Harry Askews. My farther was Eric Cooper, will lived in Audenshaw. The other shop on Penny Meadow I remember was Downings the furnisher shop.
I remember a few of the pubs in Ashton/Dukinfield/Audenshaw:
In Ashton: The Bowing Green. The Feathers. The Angel. The King William ( King Bill). Yates' Wine Lodge. The Commercial.
In Dukinfield: The Jazz club above The Angel. The Vic. The White House.
Audenshaw: My local The Snipe. The Blue Pig.
Stalybridge. The Waggon and Horses. The Roe Cross. The Gun. The Organ.
I have memories of the youth clubs, rugger club and the Cheshire A.C. I also played Lacrosse at Ashton, as well as all the walking I did with my Dad over the Isle of Sky (Greenfield) and the Peak National Park Hayfield, it fact an old friend of mine stilll lives in Tunstell Lane Green Field.
My name is Ron Cooper and I went to West End S M, I left school Christmas 1956 and started work at International Cotton Waste ( in the Lab & Sample room ) The Jubilee Hall at the town Hall in Dukinfield was the place of choice on a Saturday night.
I sold my business in Yorkshire in 1996 and retired, we moved down to London to be with the kids in 2000, I am now one of the great re-employed.


| | |
| --- | --- |
| Ron Cooper:roncooper@fsmail.net | 14th May 2004 |
---
Some more reminiscences!
The 60s - scooters, mods and rockers…. good times. I used to go to the coffee bars in Ashton: Sorrento Stamford St. for the mods, Green Lantern near the old Ashton baths, and good old Kontiki on Penny Meadow, Sunshine on Old street for the mods. Gardeners' Arms Taunton road for mods and scooters- it was a great night out. The Ranch at Daisy Nook near Crime lake for bikers and rockers; Alexandra billiard hall on Wellington road and Belle Vue week ends and bank holidays Stamford Park boating lake- used to get soaked Greeny
I used to go in the Gardeners Arms on Taunton road too. The Don Quixote bar and that purple lighting! Even the ugly ones looked ok in that dark purple lighting!! John


| | |
| --- | --- |
| Meg Gain (Copeland) | 6th May 2004 |
---
Thoughts on sanitaryware! With thanks to the "messagers" on ashton-under-lyne.com
Tipplers, otherwise known as "the long drop" were much better and, I'm sure, more hygienic than the wooden board with a hole and a can underneath that had to be emptied every week or so. The tipplers worked by a balance mechanism, water from other drains, kitchen sink etc and, I suppose, rain water collected in a bucket type affair. When it had a certain amount in, the weight of water would cause it to tip over giving a flush affect....if it had been a dry time and no water had been used in the house for a while and stuff was piling up at the bottom it was just a matter of leaving the kitchen tap running for a while.......it was a long way down on these. I suppose this was to avoid any splash back!! John
My auntie had one of these tippler toilets- I was scared of falling down it! Once they flushed the dead goldfish down there and I was sure it was going to swim up and bite me on the bum! Margaret
My father had one of those tipplers. It was outside. Never heard of anyone falling down one,thank God. Then one weekend a new type of porcelain toilet arrived which, I guess, had fallen off the back of a truck and life was never the same!! (question- did anyone come up with a way of fixing the back of those trucks?)
We had a Tippler which was a step backward for me. I wasn't used to it. It was a house my husband and I bought on Glebe Street, off Penny Meadow. And, yes, I used to get down and donkey stone the floor in there. Till one day I went in and met up with a rat. Oh God it put me off forever. It wasn't long after that we got without the house. I was a nervous wreck. Lily
It is very probable that the rat came up the tippler toilet from the sewer. These toilets were basically a straight shaft down to the sewer, having no water trap or anything else to keep whatever was down there from coming up. That's why they used to pong a bit. He probably was looking for his next goldfish to eat (these being best fed to the cat). We had a small sewerage bed close by us on Littlemoss- I used to play on it as a kid - used to go round and round on the filter beds not knowing what the stuff was coming out of the nozzles, Tomatoes grew in wild profusion down there. They never seemed to ripen very well though and I always found them hard and a little bitter! John
I remember the tippler. My grandparents used to have one in their backyard in Welbeck St. My sister came home from the mill one lunch time. She'd just been paid, so her purse was bulging. She went out the back to the loo....and yes, you've guessed it.... purse and wages went down the pot. She came running into the house in tears and my grandpa, being the innovative soul that he was, gave her the home-made 'spoon' to go and retrieve her lost items. He removed the pot for her and left her to 'fish'. Needless to say she didn't smell so sweet afterwards. She was absolutely furious that grandpa hadn't done the 'fishing' for her. It served her right. If she had left her purse in the house and hadn't been so mistrustful of us, she wouldn't have ended up covered in muck. We never let her live that one down
Something else, my Gran used to do the privy out about this time of year with whitewash. This was a mixture of lime and water with some dolly blue added to stop it yellowing. Had to be careful not to brush against the walls or the stuff was all over your clothes....also added to this mix, before its use was banned, wouldbe DDT - this to kill the flies. It would kill most anything and go on working for most of the summer. Gran's privy wasn't the place to hang about in.
I remember that rat in the outside loo, I remember the tippler too, and I remember that after you found the rat, you wouldn't let me go to the toilet anymore... well I had to go, but you weren't happy about it... come to think of it neither was I, I never did like that toilet! I wasn't really scared of the rat though, I was used to the rats that David and Ethel next door used to keep, and his ferrets... so rats and things have never bothered me that much.
I'm not sure I have ever known a flushing dunny to freeze, but then it's not likely to happen where I live, is it? (Australia). If the one we had in England ever froze, I can't say I remember it.
My dad used to light a tiny paraffin lamp in the outside loo when frost was forecast- never worked out how that little lamp kept the water from freezing.
We Brits (Ashtonians, in particular) are a funny lot. Wherever we go or wherever we are, we seem to have a preoccupation with lavatories. We can ROFL when it comes to jokes about lavs and we can have in-depth discussions about them. We even discuss the attributes of foreign lavs and how they compare to our own. In my experience no conversation escapes the ultimate topic, the lav. Or is it just me?!
Not surprising that the odd rat pops up from the loo to say hello from time to time. A study published a few years ago stated that we here in England, no matter where we are at ground level, are never more than ten yards away from the nearest rat. Our sewers are teaming with rats; they are unstoppable. Some thirty or so years ago, the warfarin-resistant or super rats came on the scene, first noticed on the Welsh borders. These are now throughout the country, completely out of control. I have to say that what surprises me is the fact that we don't see more of them creeping up out of the loo; the S-bend and water trap is no deterrent to the rat of today. Those of a nervous disposition might find it more comfortable flushing the loo before using it, this should at least give you a head start! Also remember to drop the lid after. We don't want him getting out and making his way to the larder.
Think the preoccupation with loo's starts when we are just kids. I remember when my kids were little, wherever we went they wanted to use every single Loo we happened on, in shopping malls, in parks, at the beach, train stations, every single petrol station we stopped at... they always needed to go!
I'm not sure about rats coming up out of the loos, but I know in some areas of Queensland(in Australia) that you can be sitting on the loo, and it will start to gurgle and bubble and up pops a cane toad... this has happened to me on more than one occasion, and to several others I know.... for those not knowing about cane toads, they are a nasty looking large toad that have glands that secrete a poison that can poison a pet or make a person quite ill. Anyhow I think these arriving in the loo are probably about as much of a fright as a rat would be!
Heyup, the subject of lavs just won't go away! On a good day I would try to read the bits of black and white lav paper (newspaper) that my granddad had so lovingly cut up and threaded on a piece of string. On a bad day I would just sit there freezing, my bum exposed to the elements and, with my eyes closed wondering whether the arachnids had sussed me out and were just waiting to pounce. After umpteen years my family are still trying to work out why I wake up nights screaming.
MY Grandad used old copies of "The Farmer and Pig-breeder" for toilet paper. They were cut into squares and threaded through the corners by a piece of string which hung on a handy nail behind the lavatory door. They were pink, I remember.
The only time I ever shut the lav. door was when I'd swiped cigs from my dad's packet. I'd go in there and puff away, feeling very smug and thinking how clever I'd been to fool the old 'uns. I wasn't to know that my dad, being the frugal type, used to count his cigs and that he and my mother used to stand at the back kitchen window watching the smoke rise through the lav roof.
I used to stand on the lav with the top window open and blow the ciggy smoke through.My mam always knew though. She didn't smoke and could smell it straight away. I used to buy five 'Woodbines' or 'Park Drive'. about fourpence (4 old pennies) a packet. I didn't smoke at work cos too many people knew my mam so I would leave the ciggys in my best coat pocket, get home, have my tea, then go to get the smokes but nine out of ten times they would have gone! My mam would have taken them and given them to my married brother and I daren't say a word.


| | |
| --- | --- |
| Meg Gain (Copeland) | 4th May 2004 |
---
Thoughts on sanitaryware! With thanks to the "messagers" on ashton-under-lyne.com
I read the above article on your very interesting website. I originate from Mirfield in West Yorkshire I served an apprenticeship as a Plumber and one of our jobs was to look after some tippler lavatories owned by my uncle. When it rained the tippler used to work like mad and was prone to shearing the hinge pins, it was our job to replace them and as I remember it wasn't a very savoury job, they smelled a bit and were very slimey due to the sink waste running into them.
I've sent you a diagram of how they worked, hope it is of interest to you, a thing of the past but as my Uncle Willie used to say they were fully automatic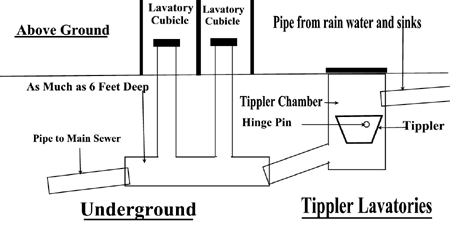 | | |
| --- | --- |
| Regards Gordon Brooke | 26th March 2005 |
---
"Ashton Pally - Again"
I briefly went to a youth club in Bardsley when I was about 14. Believe it or not my mum persuaded me to join, she was always trying to persuade me to join things. It was a bit rough, a whole lot of bikers who also hung out round the 'Smoke Pole' cafe. (now Smokies). They all used to try and race each other doing the 'ton' on Lees Road. I went out with one of them for about three weeks, not my wisest move. One of the boys was called "Johnny Truelove", yes really, and he had his name on the back of his leather jacket. I never knew what he looked like, because I never saw him without his helmet, but everyone used to whisper when he was around. Sounds like something out of 'Grease' doesn't it.
I started going to the Palais when I met Mike (future husband), but my mum didn't like me going. Strange Mother, I couldn't go to the Palais, but I could hang around with bikers. I used to go Thursday Nights, with a friend. Mike and his friends used to meet up in the Bowling Green Pub and come across to the Palais after a few drinks. Real cheapskates weren't they. I keep trying to remember the groups that played there: The Hollies at least three times, Billy J Kramer, Gerry and the Pacemakers, Freddie and his Dreamers, The Drifters, Emile Ford, the Fourmost and lots of other Four somethings, the Searchers. I think possibly that the Dave Clark Five played as well and everyone stamping to 'Glad all Over'. One of the DJ's was a kind of cross between Jimmy Saville and Tony Blackburn who drove around Ashton in his pink bubble car, with a huge plastic pig's head screwed to the roof.


| | |
| --- | --- |
| Gay Oliver (Cullen) | 26th April 2004 |
---
"I can't get no sex in Ashton"
Those were the words we substituted for the Rolling Stones' lyrics to "Satisfaction"!!

We used to moan there was nothing to do in Ashton. The "Swingin' Sixties" certainly seemed to be passing us by! I longed to live in Liverpool or London, anywhere but boring old Ashton. Looking back though, we always managed to find somewhere to hang out. We'd queue for the pictures at The Empire or The Odeon or try to get in past the eagle eye of the doorman for the 'X" film at The Pavilion! When The Beatles' first film " A Hard Day's Night" came to the Odeon, my friend Jean and I stayed to watch it round three times! One of my boy-friends refused to take me to see "Jailhouse Rock" with Elvis in it, on the basis that it would be too shocking! He took me to see "Son of Flubber" instead! Needless to say, I didn't go out with him again.

There were usually dances on at the Town Hall or one of the local youth clubs. A band, "The Bushmen", a group of Sixth Formers at Ashton Grammar school, were very popular and we'd find out where they were playing so we could follow them. I remember a dance at Audenshaw Grammar School. It was themed as "Finnegan's Wake" (very literary!) and the band playing that night were Herman and the Hermits!

The Palais was the place to go on Thursday nights. My mum thought I was round at a friend's doing my homework, Instead I'd smuggle out a pair of stilettos, line my eyes Cleopatra style in the phone box mirror and off to the Palais I'd go! During the evening the lights would go down, the music would be soft and low and the M.C. would announce 'smooch time'. That was a signal for me to rush off to the Ladies' to avoid all the Teds who'd suddenly come to life, having spent the entire evening propping up the bar. My cousin was a Ted; he wore a long draped jacket with velvet collar, tight black jeans and "brothel creepers", thick soled suede shoes. He Bryl-creamed his hair and spent hours perfecting his Elvis quiff that had to droop over one eye!

In the Summer we used to look forward to the Wakes fair coming on to the Market Ground. The lads who worked the waltzers somehow managed to slick back their greased quiffs whilst, at the same time, revving the cars so all the girls screamed. We'd hang around the edges of the fairground which always seemed so exciting in comparison with the usual grey gloom of an Ashton summer.

I can remember some of the clothes I wore in the Sixties. I loved mini-skirts and skinny rib sweaters. I used to wear a short pink mini-dress with a crochet cardigan that was just about the same length as the dress with tight white stretchy boots. I bought Rimmel make-up at Woolworth's and practiced making up my eyes like Dusty Springfield's!


| | |
| --- | --- |
| Meg Gain (Copeland) | 23rd April 2004 |
---
Meteorites in Stamford Park
I have just been reading the Memories page and have been laughing and crying.
I was born in Cockbrook, 60 St. James St., 1944, and Mum, Dad and I emigrated to Sth. Aust. 2 day after the Coronation on the 4th June 1953.
When I saw the words to 'We are the two Ashton Mashers', I could hear my Mum & Dad singing it. They are both gone now.
Also Doris Prince took me back to St Gabriel's school "I hated the codliver oil (yuk I can taste it now)".
I have so many memories this is just a small one! When I used to go to Stamford Park I used to start running from the main gate in the hope that I would be able to jump on top of the 'huge' balls (the meteorites) that were on the path ahead. Imagine my suprise when I finally visited there in 1992 to find that they weren't so big after all I can now sit on them!


| | |
| --- | --- |
| Leita Fennell (nee Landers) Port Augusta, South Australia | 22nd April 2004 |
---
Rag 'n Bone Men
We called the rag and boneman Tatter. He would go round what we called 'the swanky houses' first and what they give him were decent clothes. Then he would come round to where we lived on Lees rd and sell them. He would ring a bell and all the doors would open. It was like first there best dressed. All the women would run to his cart. It was like a 'free for all'. They even ordered stuff off him "if you get a good pair of shoes size whatever, will you save them for me?" He more often than not came up with the order. The donkey stone we used to use to stone the front door step, until that is, some bright spark came up with painting them. Tatter was our mothers' fashion designer it's all they could afford. Lily.
I remember the rag and boneman coming to Holden Street for rags, and my stepmother getting the stone so I could do the kitchen floor as it was cement not tiled. I had to wash the floor then stone it and, if I remember, it came up a sandy colour. Joe
There were cream and white donkey stones, but the cream was more popular, I think. Actually it was a bit of a pain because when you sand stoned the steps it all walked into the house. It was years before someone thought of painting instead.
I don't think we used to get stuff from him; rather we gave him stuff, and I don't think he gave us a stone at that time, but some little toy like a pipe for blowing bubbles and stuff like that. I have a question about them though. I understand the rag part of the name, since they basically collected rags, but where did the bone part come in? Why Rag and Bone? Karen
I remember my grandmother black-leading the old iron cooking range. She even did the cast iron kettle that was always singing on it, never had to wait long for the kettle to boil at Gran's. It took a long time to do and was hard work but looked very smart when it was done. I'm digressing a little but you might know the shop where this kettle was bought. It was Jack Tyson's shop on Newmarket road at the corner of Downing street. This shop had a large clock up on the wall outside and came, I believe, in later years to be known as the clock shop. The year 1946 was stamped on one side of the kettle and 8 pints on the other. '46 was the year I was born and, according to my mother, she bought this kettle and took it up to her mum's in the pram with me in it. It was a heavy thing. Gran used to keep two pebbles in the bottom of it to collect the lime stone. It was in continuous use until 1970 when it started to leak and had to be cobbed. 1970 was also the year my Grandad died. I think my Gran read something into the fact that both the old man and the kettle had gone in the same year!! John
I remember the rag and boneman's horse eating from its nose bag standing outside our house at the bottom of Turner Lane (just before you went under the railway subway). We used to give Reuben some old clothes and, in return, we'd get a balloon or a pipe for blowing bubbles. I used to love those- my Mum would give me a little enamel bowl with some sudsy water (Rinso powder?) and I'd spend hours blowing bubbles that Susie, the dog next door, would jump to try and catch. Donkey stone- did you know that you can still buy donkey stone in Ashton Market? I have some right here! My Mum used to stone our front step and woe betide you if you stepped on it whilst it was still wet! Meg
I lived in Hope Street and the ginnels (Passage way) at the back of the houses were a great thing for playing jokes. The old R & B that used to come around would get halfway up the ginnel ringing his bell & by that time some of us kids would have undone the donkey & took away down the street & tied it to a lamp-post. He never caught us but we had some lucky escapes. Yes the bone was used in the making of chain-ware & was sent to Staffordshire I was told. We would get on the top of the walls & run along them if we were being chased then drop into one of the yards & run though the house with our faces covered. Usually through one of the old folks place's.
I've an article here from The Manchester Evening News "....donkey stone, used to scrub and colour doorsteps 100 years ago..." We're not that old, are we?
Anyway it goes on to say that they were made from powdered stone quarried in Wigan and Northampton. One of the biggest manufacturers, Eli Whalley, was in Ashton. They produced 2.5 million donkey stones per year (that's a lot of doorsteps)!! and closed in 1979. You didn't have to buy donkey stones as the rag and bone man gave them you in exchange for old clothes. Now you can buy them at Bailey's Hardware in Ashton Market- they cost 65 pence!
I think 'doing the step' was a good excuse for a gossip with the neighbours! Meg


| | |
| --- | --- |
| Thanks again to Meg Gain | 20th April 2004 |
---
I've collected some little ditties that have an Ashton theme- courtesy of folk on the ashton.com website!
ASHTON MASHERS
We are two Ashton Mashers
We often go out on a spree
We both wear tall hats; we've no shirts to our backs and it's seldom we have any cash
We always bring out the new fashion; while the others they stick to the old
and though we are just twenty seven, we're seldom down-hearted and low

For we'll sing tra-la-la as we walk down the street
with style and perfection that ne'er can be beat
All the ladies declare that we are a treat
We're the two Ashton Mashers from down Stamford Street
For we'll dance and we'll sing and we don't give a jot
We're a jolly fine lot
We're alright when we're tight and we're jolly fine company

Now the other night we were invited to a party by two ladies fair
Their cheeks were in bloom like the roses in June and they made such a wonderful pair
We were singing and dancing till midnight with tobacco and whisky and rum
and after the dancing was over
with the ladies we all had some fun

For we'll sing tra-la-la
as we walk down the street
in style and perfection that no-one can beat
All the ladies declare that we are a treat
We're the two Ashton mashers from down Stamford Street

**********************************************
HUGH MASON'S STATUE
Hugh Mason stands with folded arms
Upon his marble perch
His face is to the Astley Arms
His arse end to the church!


| | |
| --- | --- |
| Thanks again to Meg Gain | 27th March 2004 |
---
Ashton Swimming Baths
I really liked school, most of the time, apart from the dreaded swimming lessons. I wasted hours of my young life, either shivering in cold changing rooms or hanging grimly on the side of the baths, kicking up my legs! We were taken by double decker bus, once a week, to Ashton Baths. The building itself, with its soot blackened exterior always looked foreboding. We had to queue to get through the turnstile. Then we trooped into the communal changing room with its stone floor, white tiled walls and coat pegs on which you hung your clothes, blazer and hat. I used to take as long as I dared to change into my regulation black swimming costume, putting off the evil moment when I had to emerge into the echoing, blue walled pool with its terrifying 'deep end'.
For the next hour, I would cling to the side of the bath in the shallow end, kicking my legs, with a lovely view of the pink knicker legs of the old dragon who was supposedly teaching us how to swim. I envied the daring ones in my class who dived in, swam merrily from one end to the other and emerged looking pink and energised, whilst my body turned slowly blue with cold.
Then the torment of hopping from one foot to another, trying to dry myself and dragging on clothes that clung damply to my skin. I was warned about getting veruccas and 'athlete's foot'. When I did get a verucca and had to visit the school clinic on Crickets Lane, it seemed most unfair and certainly didn't endear me to the 'Baths'.


| | |
| --- | --- |
| Thanks again to Meg Gain | 24th March 2004 |
---
Ashton Buildings
I asked on the www.ashton-under-lyne.com "message board" for suggestions of which buildings contributors thought of when Ashton was mentioned. These are some of their ideas:
THE BATHS- this is a Victorian building which housed the swimming baths, the slipper baths et al. It dominated one end of Stamford Street, the main thoroughfare of Ashton. It is now disused and in a dreadful state of disrepair but its chimney still stands out on the skyline as you approach the town. I remember, when I worked at Ashton Library, that the old men, regulars of the 'Reading Room', used to wash their smalls at the Baths and then decorate the Library radiators with their drying socks!!
THE LIBRARY- a fine Victorian building- now restored to its original glory with a new Art Gallery on the first floor. I first joined the Library when I was six. I was so excited to get my own ticket- the first book I borrowed was "Milly Molly Mandy". I didn't dream that I would eventually work there and spend my career in libraries!
THE MARKET HALL- Grade 2 listed building. Built in 1829 with later additions. This is Ashton's true centre with the Market Ground on one side. The Market Clock still tells the right time. The smells of cheese, bread, meat and fish are very evocative.
THE MARKET GROUND- The stalls have been arranged and rearranged over the years but many of the regulars still 'stand the market'.
THE OLD FIRE STATION on Wellington Rd- Now a nightclub! The bus station (much smaller than the present one!) was opposite the Fire Station and it caused a ripple of excitement if the doors opened and the fire engines roared out whilst you were waiting in the bus queue.
ST MICHAEL'S CHURCH- A beautiful old building at one end of Stamford Street. It has fantastic stained glass. I first visited it in the early 70's when my boyfriend from London, now my husband, first visited my home. The verger at the time gave us a personal guided tour and told us the story of St Helena, which is in the stained glass windows! St Michael's Square in front of the church was the site of the original market (market status for Ashton granted in 1284!)
THE GEORGE & DRAGON A huge Victorian (?) pub which dominated one corner of the Market Ground (on the corner of Bow St and Warrington St) It had a very magnificent staircase. Demolished in the 1960's (?)
THE REPORTER OFFICE- another large building that stood opposite the market ground (roughly where Marks and Spencer is now). The Ashton Reporter was the local newspaper which came out every Friday. I used to have the Reporter delivered to me during my time at college in Wales in the late 1960s!
OLD STREET and the CINEMAS- Old Street between Warrington St and the Library was the hub of Ashton's entertainment. In the 1950s and 1960s there were 3 cinemas within 100 yards of each other! The Gaumont was quite upmarket with plush seats and Saturday morning club for kids. The Pavilion was commonly known as the 'flea pit' but you could sneak into 'X' rated films when under-age and they had double seats upstairs for couples who hadn't come to watch the film! Round the corner on Oldham Rd was The Empire- it had a bar upstairs and was also used by local operatic groups to stage musicals. I saw "West Side Story" there. Not forgetting the Palais de Danse, usually known as " The Pally." I used to go roller skating there when I wasn't at the Saturday Morning Club at the Gaumont. Later on I went to see bands play there- I saw 'The Who" there in the early 60s. Ashton Palais was the location for the dance hall scenes in the film "Billy Liar' starring Tom Courtney and Julie Christie.
Just to add to Meg's memories of 'The Pally', I remember all the early sixties groups like The Hollies, Gerry and the Pacemakers, Billy J Kramer and everyone apart from the Beatles and the Stones playing there. But, when the Rolling Stones record 'Satisfaction ' was out, all the boys used to stamp their feet to the chorus and sing "I can't get no sex in Ashton'.
THE ALBION SUNDAY SCHOOL- at the top of Penny Meadow. When it was built in 1862 it was the largest Sunday School building in the world. The PSA fellowship met there - PSA = Pleasant Sunday Afternoons! Still there but now a carpet warehouse.


| | |
| --- | --- |
| Thanks again to Meg Gain | 9th March 2004 |
---
Ashton Market
The Market Hall and Market ground are 'unique selling points' for Ashton, in today's jargon! Ashton would be just another industrial North West town without them. I have many happy memories of the market. We lived on Turner Lane, just under the small subway, near Charlestown station, so the market was very convenient. My Nanny used to love to take us all on the market ground- my youngest brother in his pram and my other brother and I hanging on to the pram handle. On Fridays we'd have our ride on the roundabouts. It was always agonising to choose which vehicle to ride on. Would it be the little red car, like Noddy's, with its black hooter? or perhaps the Wild West coach complete with six-shooters? There was a red bus with 'upstairs' and a blue motor bike with black pedals. I liked the swing-boats too, although I used to dread somebody bigger and more daring sharing the swing with me. They'd pull on the rope until we went almost as high as the Market Hall clock! If we were good, we might be treated to an icecream cornet with runny raspberry sauce from Siddall's icecream van.
My Nanny had her favourite stalls- Kelly's greengrocer's for the best salads, all the way from Ashton Moss; bacon and ham or tongue from Redman's in the Market Hall; broken biscuits from the biscuit stall with its boxes with see-through lids- would we have Lincolns, digestives, fig rolls or chocolate marshmallows? We'd buy oven bottom muffins and crumbly Lancashire cheese for lunch. Then we'd call at the drinks stall with its shiny chrome counter and steaming, gushing machines dispensing coffee, hot chocolate, milkshakes and creamy Horlicks. My Nanny used to like a cold drink called sarsparilla although I'd turn up my nose at the taste. Before going home we'd make the trip, a little way along Old Street, to Harrop's the herbalist's for belladonna, to make poultices!
If I needed a new pair of sandals we went to Harry's stall. I'd always have to have the same T bar Clark's sandals, brown ones. Last year's sandals would have the toes cut out and be for 'playing out in'. The new ones were strictly 'for best' !
When the arms or legs fell off my dolls, they had to go to the Dolls' Hospital, which used to be on the market ground. Then I'd need to be consoled with a bag of boiled sweets and pear-drops from Podmore's sweet stall.
Occasionally we'd visit the UCP tripe stall for some cow 'eel ( "makes a nice pie") or black pudding for my Dad's tea. The sight of all that tripe and other mysterious things, looking rather like the wash leather that my Mum cleaned the windows with, made me feel slightly queasy. I much preferred the dinky pork pies that the butcher sold.
Once a year, in August, the whole Market ground was transformed when the Wakes fair came to town. The Big Wheel, the Waltzers, the Caterpillar and the Dodg'ems were all very exciting.The smell of sweat, grease and frying onions overpowering. I loved the 'grabbing hand' that tried to pick up one of the glittering jewels and for 2d delivered a cheap tin broach, a 'diamond' ring or, usually, nothing at all!
The trolley buses to Manchester and the green bus that went to Dukinfield stopped on Bow Street alongside the market. There was a big pub called 'The George and Dragon' on the corner of Warrington Street and the offices of the "Ashton Reporter' faced the Market Hall- the workers there would always know the correct time as they'd be able to see the Market Hall clock.


| | |
| --- | --- |
| Thanks again to Meg Gain - my childhood is coming back to life! | 8th March 2004 |
---
WHIT WALKS
I loved Whitsuntide when I was a child. The Spring flowers and bursting green of the trees signalled an exciting time of the year. New clothes for Whitsuntide meant a trip into Manchester on the No.6 express bus and a visit to C & A (which my dad always told me stood for 'Coats and 'ats' !!) for a new coat. Then on to the shoe shop- I always had to have 'Birthday shoes'. Your feet would be X-rayed and new shoes tried on. When your birthday did come around, you'd get a card from the shoe shop! New clothes meant extra pocket money from the pennies that would be slipped into your pocket, ..."for your new clothes".
The evening before Whit Friday, I would go to Sunday School with my Dad, as he would be helping the other men prepare the banners- the 'big' banner was rich reds and golds with a picture of Jesus in the middle and long white ribbons for the older girls to hold on to. The smaller banner was blue, silver and gold- when I was 10, I was allowed to walk with the banner- a great event!
On Whit Friday morning we would gather at Sunday School- the Boys' Brigade, smart in their uniforms and pillbox hats, the brass band tuning up in the yard, the girls twirling round to show off their new dresses and the little kids being marshalled inside the ropes, which they had to hold on to, to avoid being run over by the passing buses on Oldham Road.
My cousin Colin played the big drum in the Boys Brigade band. He wore a leopard skin apron (I didn't know we had leopards in Ashton). The bugles were rubbed against trouser legs and their raucous sound signalled that the procession was ready to move off. First of all, we marched slowly up Oldham Road to the Wesleyan Chapel at Oaken Clough, where many more joined us. We then turned back towards the Ashton direction, taking a detour along Anglesey Road and round to the War Memorial near 'The Dog' public house. There we'd sing hymns and the Boys Brigade would lay a wreath.
All my family were part of that procession. My Grandad was the Sunday School Superintendant so he marched right at the front. My Dad was an officer in the Boys Brigade so he checked the boys were marching in time. My aunties were Sunday School teachers - they were walking alongside their class, making sure they behaved themselves! My brothers were in the Lifeboys- a junior version of the Boys Brigade, dressed in fishermen's navy-blue jerseys and flat peaked caps. My Mum was somewhere at the back with the 'Ladies' pushing a pram with my sister in it.
After we'd walked round all of Waterloo, we'd get back to Sunday School ready for a cup of strong tea and a raspberry bun. Those buns were hard with a dollop of jam on top and I have never seen them anywhere else, apart from after the Whit Walks!


| | |
| --- | --- |
| Thanks again to Meg Gain for this vivid memory of the Whit Walks | 8th March 2004 |
---
Stalybridge Town Hall and the Movies
Just a short story about when my mother, brother and I had an unusual day out in the 1970's. When the producers of a film set in wartime Lancashire were looking for a town in which to film they chose Stalybridge. Maybe you could take offence that the town hadn't changed much in 35 years but we weren't all that bothered. The film was called "Yanks" and starred Vanessa Redgrave and Richard Gere (Shame I was only 7 years old!) and we were chosen as "Extras".
On the day of filming it was bitterly cold but the shot was set in summer and the producers had even hand-tied leaves to the bare branches of trees on Market Street to make the place look seasonal. My main memory of this was being very uncomfortable in the short little dress I was asked to wear and only being consoled with chocolate. We all did our bit and then I started to show off doing cartwheels for one of the Actors who then gave me my first ever piece of chewing gum and said that he would look out for me in the 1988 Olympics! Well! That never happened.
At lunchtime we all crowded into the Town Hall and were given a rather badly cooked roast dinner, but it was time to show off again and my brother and I took to the stage and started singing songs for everyone. It was a long cold day but one that I will not forget. A few years later we used the hall for school discos, and I was quite sad when the place burned down whilst we were still at school. The front of the Hall was saved but the rest converted to a garden. Years later I had met and old friend from school who was later to become my husband and when we were first going out we used to walk through the garden bemoaning the fact that we didn't yet have our own place. And often when completely worse for wear we would turn round and say that the garden was 'our house'.


| | |
| --- | --- |
| Mrs J M Prince | 8th February 2004 |
---
Too many Bodies - Too-oooh much!!!
I remember going to Harry Marland's, the funeral directors on Old Street when I used to deliver milk in the mid-50s. The Chapel of Rest was on Old Street but his workshop was round the back streets nearby. One winter's day, out on the milk round with my Dad, he told me to take the bill into Marland's workshop. I handed the bill over and stood waiting for them to come back to me with the money. I would have been about 9 or 10 years old at the time. I stood waiting next to the bench where a chap was working away, knee deep in wood shavings. I just looked down and saw two feet sticking out from under a pile of shavings. I just wanted to get the hell out of there but had to wait for the money. I looked around and there were corpses everywhere, must have been ten or twelve, and for the most part covered in wood shavings. It seems there'd been a flu epidemic and also a bad smog which had caused this upsurge in Harry's trade; a trade so brisk he had no room for all the dead bodies in the Chapel of Rest, couldn't make the coffins fast enough. This really gave me the creeps as it was the first time I'd ever seen anyone dead. I was never to go in there again!


| | |
| --- | --- |
| John Turner | 7th February 2004 |
---
Shops in Ashton
This is a collection of memories from old Ashtonians who keep in touch on the message board at: www.ashton-under-lyne.com
I remember Henry Moon's at the bottom of Penny Meadow. I think it was a stationer's. I loved the name! 'Burgess and Dyson's in the Avenue was where we could choose the books for out Sunday School prize. The tripe stalls inside the Market Hall. The tripe was all different colours –some looked like old window leathers. 'Queenie's sold Marks and Spencer's seconds from her stall in the Market. I bought my first make-up from Woolworth's which used to be on Stamford Street until the late 60s. The shop had wooden floors which made a satisfying noise under your stiletto heels. On the Market Ground we used to get our summer sandals (Clark's brown sandals with crepe rubber soles and a T bar) from Harry who was still coming to the market until fairly recently. We got our salads from John Kelly who kept a market garden on Ashton Moss. His Coz lettuce and large juicy tomatoes were delicious. We bought sweets from Podmore's who had a factory somewhere down Cotton Street or one of the streets that ran down behind the offices of the 'Ashton Reporter'. When I graduated to 'nylons' I bought them at Howard's on the corner of Warrington St and Stamford St (next door to Woolworth's). They were a fetching shade of American Tan!
Other shops in Ashton included: Rose Wallwork's hat shop inside the market; Bailey's Hardware; Rowell's furniture shop; Harrop's the herbalist on Old Street near the Pit and Nelson (my Nanny used to buy belladonna for poultices from there); Shirley's Hairdressers facing the War Memorial; Nellie Gorman the hairdresser (what a name- not very glamorous!); Mary Ellen Wild the pawnbroker. 'Sew and Sew's which was on Fletcher Street sold yards of cotton to make dirndl skirts which everybody wore in the late 50's usually with a stiff net petticoat underneath.
I remember Manny Showman's the gent's tailors at the bottom of Penny meadow, a little Jewish fellow. I bought a crombie coat from there in the early 70s. Jones Music Shop was in a little side street that ran between Old Street and Bow Street, by the side of the George and Dragon. Tommy Sizer kept a pawn shop on Market St. There was a toy shop in the Avenue that used to have a Hornby train set running in the window. It had a coin slot where you had to put a penny (the old sort!) to keep it going round again.
I remember the pie shop on Penny Meadow that everyone knew as 'Browned Offs'. My Mum would send me to get some 'browned off' pies, not because they were burned, but because you'd hear the baker in the back shouting, "I'm bloody browned-off". The pies were great though.
Borsey's the pork butchers on Old Street used to sell great pork pies but I used to hate seeing the pig carcasses hanging from dirty great hooks in the back. There were a row of little plaster pigs wearing straw boaters and striped butchers' aprons in the window. I loved oven bottom muffins that you could buy inside the market. An oven bottom filled with salad and crumbly Lancashire cheese (food fit for a king!).
Does anyone remember the shop in the Avenue that sold fresh ground coffee- you could smell it all the way up the Avenue?
Allen Shaw's grocer's was on the corner of the Avenue (at the Market end). My Uncle George (Wragg) operated the bacon slicer.
I had a job on Bailey's Hardware in the market in the summer of 1961. Bert the Manager told me that doormats were his 'bread and butter' so I was stationed to stand by them and flog as many as I could. Although it was summer they went like hot cakes day after day- all different sorts …… "Priced from 2/6 to our top brand (coloured all the way through), a bargain, darlin' at only 7/6. Not many left and they're 'ard to get 'old of"
Entwhistle's tripe shop in the Market used to serve tripe and you sit up at the counter to eat it. We kids used to play tricks on the stallholders all year and then at Christmas we'd go round all the stalls wishing them a merry Christmas and they'd give us an apple or orange. When the Wakes came to town all the kids would be on the market hoping for a free ride when they tested them before the fair opened.
I remember the Christmas Grotto at 'Arcadia'- one year it was like an underwater scene – I really believed I was under the sea with the little fishes swimming by. They used to send the money off in a brass canister that ran on lines above the counters in Arcadia- then your change would hurtle back!
The posh folk bought their linen at Leigh and Arden on Stamford Street and then had their coffee and cream cakes at The Lounge.
I liked the 'drinks stall' in Ashton Market where they had a fearsome machine that whipped the hot milk for Horlicks. You could get all kinds of milkshakes and sarsaparilla (whatever that was).
Does anyone remember Pickles' inside the market? I have a flower vase bought there in 1934- it's cut glass and has a cut glass flower arranger inside. I bet it cost about 1/11 at the time.
The 'monkey run' when I was a teenager was round the market hall - lads went one way, girls the other. We'd stop and talk to a gang of lads and then the police would come and move us on. We'd just meet them again further on! We'd meet up with lads after the second house at the Queens Cinema on Sunday nights. The Old Cross Street Mission people used to be there trying to show us the error of our ways! When my Mum and Dad were young, they used to parade up and down Stamford Street. My Dad said the lads always went for the girls that were fat. If a girl who was slender (as he always said) tried to get off with him, he'd say' "Go home and eat yer brother and I'll see you next week!"
Harold Taylor used to stand under the clock at the bus terminal (when it was opposite the Fire Station) selling papers. That was a good pitch as there were the Dukinfield buses to his right and the Rochdale No.9 bus to his left and the Littlemoss bus.
I bought my wedding dress at Mabel Stanning's on the corner of Warrington St and Old St. It cost me £8.50 in 1972!
Burton's the tailor's on Stamford Street- it was just like the Grace Brothers in 'Are you being served?' except that you walked up the stairs to get to the gents department.
Stamford Street was the main shopping street until the new precinct was built in the early 1960's. You could hardly move for the crowds on Saturday afternoons. You were always sure of meeting up with friends as everyone was out. We'd walk down one side and back up the other so as not to miss any bargains!
I lived on Turner Lane (no.17 just under the subway from Wellington Rd), next to the railway line. There was a shop on practically every street corner in those days. The Houghs kept the shop on the corner of Warre Street and Turner Lane. Mr Hough used to always be wreathed in pipe smoke and the whole shop reeked of 'Old Shag'. They had a penny tray - I'd make tuppence last for ever. I wasn't allowed pink bubbly gum- 'it'll make yer insides stick together'
You couldn't beat Alec Talco's ice-cream. He was one of the few left who made his ice-cream with fresh whole milk. He sold ice-cream from a horse and cart or you could take your jug to his little factory off Turner Lane and have it filled up.
I remember the shop that sold coffee in the Market Avenue - it was Walker's. They weighed out sugar and packed it in blue paper bags and cut and weighed butter of the slab. My favourite shop was the other Burgess and Dyson's on Market Street where I used to buy poster paints, oil paints and coloured pencils. My dad was a bit of an artist so we were always in the shop together.


| | |
| --- | --- |
| With many thanks to Meg Gain (ex Margaret Copeland) for gathering these memories together | 7th February 2004 |
---
Working in Ashton Market Hall
I spent the summer of 1961 working in the Market Hall. This wasn't my first job from leaving school at Easter of that year; that honour goes to a firm, T.P.Radiators, which was down the bottom of Boodle Street somewhere. I was an apprentice sheet metal worker but left after only two weeks after being overcome by coke fumes from a leaky chimney on the stove. I was sent by the youth employment people for this job as trainee manager for Baileys Hardware in the market hall. On my first day there Bert, the manager, said "Here, wear this smock". It was a brown one and I think the previous owner must have been seven feet tall with arms to match! I rolled the sleeves up a good ten inches but couldn't do anything about it dragging along the floor. The very large pockets were around my knees somewhere. The chap on fruit n veg came over to Bert and said, " You won't be able to keep your staff if you can't kit 'em out better than that". He turned to me and said, " Hang on, son, I'll sort you out." He went back to his stall and came back with a sack of monkey nuts and he filled both my pockets with these nuts and said " They should keep you grounded if we get any wind......" That's how it was in the market.


| | |
| --- | --- |
| John Turner | 5th February 2004 |
---
Snowball Fights
School rivalry in the 1950s between Waterloo Primary School and Christ Church (now Cannon Burrows) culminated in epic snowball fights between the two.
We couldn't wait as we watched the snow falling thickly throughout the morning. Beautiful fresh snow that stuck together almost effortlessly. We hope to be allowed to play at dinner time on the fields beyond the playground. The fields behind the two schools were separated by a deep valley created by Taunton Brook. At least it seemed deep when you were ten year's old.
Today was going to be one of the best, and we couldn't wait as we got outside. I don't quite know how ideas happened almost simultaneously between groups of children, or come to that how fashions in playground games came and went, but groups of children that day found themselves on opposite sides of the brook.
The object of this game was to try and gain territory and to climb up the opposing bank. I don't really remember anyone gaining much ground because it was too difficult to get up the slippery slopes whilst being bombarded by the other side. I do remember, however, some of us getting into trouble when we came back into school for afternoon lessons.
On the Waterloo side we used to have a rhyme for Christ Church:
Christ Church bulldogs sitting on a wall,
Eating cow-muck, penny a ball.
We were known as 'Council Rats'.


| | |
| --- | --- |
| Gay-Jeanne Oliver (formerly CULLEN) | 22nd January 2004 |
---
BONFIRE NIGHT
Bonfire night was a magical time in the late 40's. Us kids would start weeks before, as early as September, "logging", looking for anything that would burn. There was an old neglected orchard where the Stamford Drive, Stalybridge, estate now stands and we would go in there looking for broken branches off the trees, plus anything else that had been dumped there. I suppose we were trespassing, but it didn't seem to worry us! We would call at local small factories begging old crates, even broken fences were soon snapped up (if you'll pardon the pun) Literally anything that would burn was collected. We would arrive home from one of our expeditions tired and dirty and get a scolding, but it was worth it.
We lived in a cul-de-sac at the time and on the appointed night one of the neighbours would bring out into the road some steel sheets (I think they were left over Anderson shelters) and place then on the tarmac to protect it, then began the business of building the bonfire. Everything was heaped up and soon set alight with the help of coal from a neighbours fire. All the neighbours would bring out old chairs and sit in a circle around the fire. Potatoes were thrown in and chestnuts, they came out very dirty, but tasted like caviar. There was a wonderful community spirit that evening, watching the fireworks if anyone had enough money to buy them. They were pretty in those days, not like the ones we get nowadays with their extremely loud bangs, which frighten children and animals.
Of course we had a Guy Fawkes, once we'd collected enough wood we would go around to neighbours houses begging old clothes and anything to stuff him with. He was placed right on top of the fire and a big cheer went up once he had succumbed to the flames.


| | |
| --- | --- |
| Doris Prince (formerly Pascoe) | 22nd January 2004 |
---
SCHOOLDAYS IN THE 1940'S
My first schooldays were spent at St. Gabriel's School, Stamford Street, Cockbrook, Ashton-under-Lyne – now better known as THE SCHOOLHOUSE RESTAURANT.
We had a school crossing patrolman, as even in those days Stamford Street was busy with traffic. If we had to wait for the traffic to clear, the patrolman would let two kids take an arm each and he would give us a "swing" Those "swings" were a privilege and eagerly sought after and prized. I often wonder how long his arms were by the time he retired!
Once in school we had a sort of assembly and then the teachers would drag the loud noisy folding partition across the school to form smaller classrooms.
At break time (or was it dinner time?) we kids had to form an orderly queue and were given a spoonful of Cod Liver Oil, followed by a spoonful of Malt. Miss said the malt tasted nice, so that was the reason it was given second to cover up the bad taste of the cod liver oil. I never believed her – they both tasted horrid to me. I can only ever remember there being one spoon – I hope they wiped it!
In winter if you needed the loo it was a quick dash across a chilly playground to the outside toilets, but oh what joy if it was really freezing and the water pipes burst and flooded the sloping playground, then froze again. A ready made slide for us kids. There were many bruised knees and chapped legs then!
I don't know when the school closed, but in the 70's the school was refurbished and became THE SCHOOLHOUSE RESTAURANT. I just had to go when it opened. Imagine my surprise once inside to see old photographs of St. Gabriel's. I was even more surprised when I realised I was on one of them – taken during the annual "scholars walk" at Whitsuntide. I remember the dress, white, long, organdie and very itchy. Ugh!
When The Schoolhouse closed for refurbishment and re-naming I tried to get hold of those photographs, but sadly they had already been "binned". I'm pleased to note that it is once again "The Schoolhouse"


| | |
| --- | --- |
| Doris Prince (formerly Pascoe) | 18th January 2004 |