John Angier 1605-1677
"Angel on Horseback"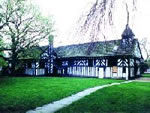 John Angier was born at Dedham in Essex October 8th 1605, the son of a clothier and the eldest of 4 brothers. He exhibited a desire for learning and was educated at Emmanuel College, Cambridge (the favourite college of the Puritans). Further training for holy orders took him to the Rev. John Cotton's house at Boston, Lincolnshire. Here he met and married Miss Ellen Winstanley (Mrs. Cotton's Niece) on the 16th April 1628.
Shortly after the birth of their first child John, Angier had some idea of emigrating to America where several ministers and Christians had already gone, to "Enjoy the Liberty of the Gospel". Before going he had to travel to Lancashire to say goodbye to his wife's relatives, which led to a complete change of plan. He was offered a living at Ringley near Prestwich.
Although a royalist at heart he was also a puritan and nonconformist and soon found himself in trouble with the Bishop of Chester, Dr. Bridgeman; was twice suspended and re-instated and finally forced to take a living a little further away. Archbishop Laud of Canterbury was already displeased with Bridgeman for placing two puritan ministers close together. He was offered the living at Denton, worth only £5. 16s per year plus any voluntary contributions, and preached his first sermon there on 1st April 1632; nevertheless he stayed for the rest of his life.
After the Restoration of the Monarchy and the crowning of King Charles II in 1662 an "Act of Uniformity" was passed whereby all rectors refusing to follow the common prayer book were ejected from the Church. Out of 10,000 throughout the country, 2,000 were ejected, but up to 25% of the population continued to worship illegally, holding secret services in barns etc. Angier's personal reputation as "the Idol of Lancashire" saved him from ejection. He preached at Denton Chapel twice on Sundays and often abroad on weekdays. In addition people used to travel from up to 30 miles to hear him at Denton; quite something then, due to the bad state of the roads. Angier was now 56 years of age, which was then considered old, so he was allowed to remain; after all he couldn't possibly live much longer!
Although a puritan, he was not an ascetic, and on the occasion of his daughter Elizabeth's wedding to Oliver Heywood in 1655 he entertained a hundred guests saying, "He loved to have a marriage like a marriage". His son in law described Angier, "He was an exceedingly handsome personage, low in stature, and of clear complexion, red and white; of a cheerful countenance and very graceful; of a venerable aspect and pleasant…" Despite these qualities he refused ever to sit for a portrait.
Angier died on the 1st of September 1677 and was interred in the aisle of Denton Chapel facing the triple decker pulpit from which he had preached – "Two Knights, twelve ministers, many worthy gentlemen and multitudes of common people attended the funeral and making great lamentation".
John Angier had been helped in his later years by his nephew Samuel Angier and the congregation wanted his nephew to succeed him, but the Church of England installed a safe conforming minister in his place. Samuel moved to Dukinfield and was forced to conduct services in secret. Angier's son John went to New England after he had been expelled from Cambridge, and was one of the earliest students at Harvard University graduating in 1655.