Micklehurst All Saints Church
The Parish Church, on Church Lane, is derelict and awaiting official redundancy.
The parishioners are currently actively raising funds to build a new church and church hall on the site of the old parish church. Services are being held at All Saints Institute, Micklehurst Road, Mossley.
Transcribed by A M Berrell November 2006
With the kind co-operation of the Priest-in-Charge the Rev. Rosemary C. Bowers.



Memorial Inscriptions from the church of
All Saints, Micklehurst, Mossley, Cheshire, England (Church of England) Diocese of Chester.
Stone in outside wall: 1893
Stone in outside wall: The Parish of All Saints, Micklehurst was created on Jan 26 1962. Laudate Dominum
Screen: To the greater glory of God and in memory of Thomas GARSIDE and Jane Ann CLARKSON. The gift of James ANDREW 1927
Altar Cross: AMDG The gift of William Edward RADCLIFFE and Hannah his wife AD. MDCCCXCIV
Litany Book: To the glory of God and in loving memory of Henry Frost HALL who after twenty five years' faithful service as a member of All Saints' Church Choir, Micklehurst, entered into rest on March 7th 1931. This book and markers were presented to the church by his aunt and were dedicated on January 24th 1932 by the incumbent Rev C.R. ENGLAND B.A. R.I.P
Churchwardens' Staves:
In memoriam Jane Ann SMETHURST 1905
In memoriam John Kinder SMETHURST 1908
Candle Sticks: To remember Mary Ann WHITEHEAD


War Memorial
Inscription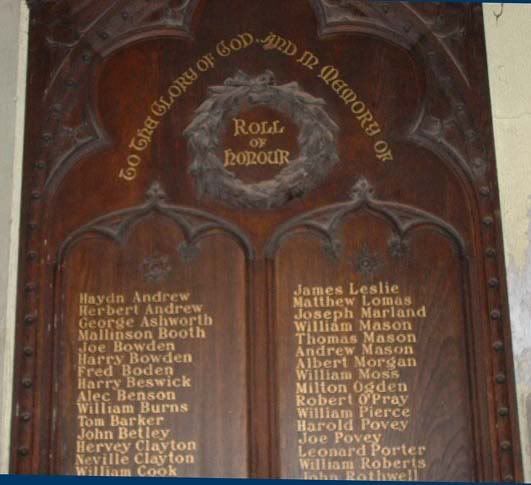 Roll of honour
To The Glory of God and in Memory of
Haydn ANDREW
Herbert ANDREW
George ASHWORTH
Mallinson BOOTH
Joe BOWDEN
Harry BOWDEN
Fred BODEN
Harry BESWICK
Alec BENSON
William BURNS
Tom BARKER
John BETLEY
Hervey CLAYTON
Neville CLAYTON
William COOK
William CANVIN
John CAREY
Arnold ETCHELLS
William A. ECOB
Edward ECOB
Fred FALLAS
James FALLAS
Fred FARR
Eric GODDARD
George H. GARSIDE
Philip HEALEY
Sam HIGHT
Walter HOPWOOD
Albert HOWARD
Fred HORROCKS
Frank HORROCKS
Joseph HOYLE
Fred HOLT
Tom HALL
Frank HARROP
Arthur JOHNSON
Philip LAWTON

James LESLIE
Matthew LOMAS
Joseph MARLAND
William MASON
Thomas MASON
Andrew MASON
Albert MORGAN
William MOSS
Milton OGDEN
Robert O'PRAY
William PIERCE
Harold POVEY
Joe POVEY
Leonard PORTER
William ROBERTS
John ROTHWELL
James ROYLANEE
Charles SPALDING
Jesse SANSOM
George SMITH
Kenneth SMITH
Walter SHEPHERD
Malcolm SCHOFIELD
Ellis SIDEBOTTOM
Hugh SHAW
John SWINDELLS
Arthur TEEVENS
Oliver TAYLOR
Reginald WHITTAKER
Frank WILLIAMS
Albert WILLIAMS
John WEBSTER
Fred WOOD
George WOODHEAD
Joseph WOODHOUSE
Albert WOOLLEY

Jesu Mercy
Very many thanks to Mike Berrell for the photographs and transcription